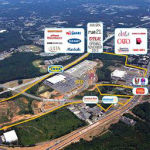 Maybe it was the full-page ads in the Charlotte Observer or maybe it was the weeks of seeing those signs near IKEA, but business was booming as the first stores opened on May 2 at Belgate Shopping Center. For some, the lure was the promise of wine and food tastings in World Market; for others, who navigated the parking lots with their dogs, it may have been the need to stock up at PetSmart.
NEW RETAIL NEIGHBORS FOR IKEA
Finally IKEA and Furniture Row have new neighbors with two more – Hobby Lobby and Marshall's – soon to follow. Old Navy and ULTA relocated from the Shoppes at University Place, while Shoe Carnival is new to University City. Having store vacancies in existing centers is troubling, given the challenging national retail landscape. That's why University City Partners has engaged the services of a retail expert to assess opportunities and identify gaps.
NEW CENTER IS VOTE FOR RETAIL
There are, however, a few bright spots. A retailer that had left the market several years ago – World Market – has returned with a handsome new store and friendly staff. Add to that the fact that five retailers have stayed and double-downed by making major re-investments in University City. And has been noted, a new merchant entered the market.
CYCLISTS AND MOTORISTS TO BENEFIT, TOO
Bicyclists will have a new, less treacherous north-south route with the expansion of bike lanes along IKEA Boulevard. At the University Executive Park end of IKEA Blvd., DDR's contractors are putting finishing touches on a roundabout as the road connects with McCullough Drive. As transit construction begins in earnest, having a vehicular alternative to North Tryon will be much appreciated.
It should be noted that in buying Belgate, DDR also acquired the infrastructure requirements attached to that rezoning. That includes the Shopping Center Drive connector that could, depending on what makes it into a City bond package in 2014 or later, allow for a "flyover" that would land on the western side of I-85.