In two weeks of stunning announcements, University City gained hundreds of new jobs, two new national headquarters and additional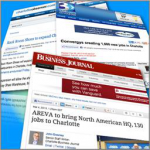 international and energy clout. AREVA will bring 130 new jobs with average salaries of $130,000. Rack Room's 87 new jobs average $70,000 and Convergys will split its 1,600 hires between its Cambridge Corporate facility in URP and its southern base.
AREVA MOVE IS GOOD NEWS FOR UNC CHARLOTTE GRADS
Energy giant AREVA is already located in URP's Innovation Park, where it employs Charlotte's largest number of engineers, many of them UNC Charlotte graduates. On Monday, the company announced that it is relocating its North American headquarters from Maryland to Charlotte.
In qualifying for a $2.5 million Job Development Investment Grant from the state, AREVA commits to having all the new jobs on site by 2016. They expect to bring 20 headquarters jobs in from Bethesda MD first, and that a number of the additional jobs will be new hires.
Monday's announcement at the Charlotte Chamber was Governor McCrory's first, fitting given his long Duke Energy career. Mike Rencheck, CEO of AREVA's North American subsidiary, said that the ability for AREVA employees to travel easily from Charlotte to their Paris headquarters helped make us a relocation candidate. He also noted the value of being near UNC Charlotte and its engineering graduates. AREVA was one of the corporate donors to UNC Charlotte's Energy Production and Infrastructure Center (EPIC).
RACK ROOM ADDING 2ND BUILDING
Friday brought news that Rack Room would relocate its Off Broadway subsidiary from Atlanta to University City. Rack Room owns additional land next to its Harris Blvd headquarters where it will build the new $16 million, 66,880 square foot facility and connect it to the existing building with a 10,000 square foot atrium. The Shoppes at University Place Rack Room is considered its flagship store. While the closest Off Broadway is at NorthLake, they expect to increase the number of those stores. Rack Room Shoes is a subsidiary of the Deichmann Group, a privately held German footwear retailer.
CONVERGYS ADDING JOBS HERE AND SOUTH CHARLOTTE
February 20 Convergys announced it would hire 1,600 workers. The Cambridge Corporate center facility answers On Star calls among other contracts. Since that facility reports less than 40,000 square feet of vacancy, it is unclear how many of those call center jobs will be based in University City. Convergys' announcement represents the largest number of new jobs to date this year and prompted long lines of applicants for a recent job fair.