Not a week goes by that Innovation Park does not bring new and exciting changes to the former IBM campus. Thanks to Wells Fargo's move-in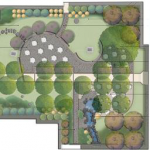 of 1,150 employees, those transformations seem to have accelerated. Hang on; AXA Equitable is coming soon, and Classic Graphics is already expanding operations.
FROM I-B-M TO IT'S BEEN CHANGED
For any of the legions of people who once worked in this facility, the changes are even more dramatic than it has seemed for the University City Partners board and staff. UCP had a front-row seat before being relocated when Wells Fargo decided to increase its footprint from 117,000 to 198,000 square feet. We got to know many of our neighbors as they "mall-walked" the property or went to take YMCA classes in the fitness center.
STRONG FOCUS ON GATHERING PLACES
BECO South president Chris Epstein admits he was flabbergasted at only finding three outdoor benches when the firm bought the property in 2010. Innovation wasn't just a name for BECO; it meant creating spaces that could foster innovation. That meant embracing fresh air and sunlight as well as building the impromptu work and rest sites popularized by companies like Google.
First the West Atrium that sliced from the new 7000-square-foot fitness center to Siemens was outfitted with wifi, comfortable chairs, banquettes, tropical plants and a waterfall.
Then an interior courtyard near AON Hewitt and AREVA was transformed with rose bushes, pathways and umbrella tables so diners could pop out to the visiting food trucks and eat al fresco.
Outside of University City Partners' new offices there are several handsome tables under retractable awnings. Around the corner, in addition to standard conference space, there is a lush "living room" area.
The West Nature Lounge will feature a crushed-granite seating area nestled amongst the trees with a trickling waterfall where Innovation Park employees can enjoy their lunch or just take a break from the day. Construction will be complete in April, just in time for our fabulous Southern spring days.
Smaller patios are being upfitted around the property. Come spring, the farmers market will return on Thursdays and the Blue Bikes will again draw cyclists who tended to hunker down during the cold months.
PUTTING THE "DECK" IN PARK
Gone is the long walk from far-flung surface parking lots that circle the 1.9 million-square-foot complex. Now Central Park and the multi-floored deck named North Park both will bring workers closer to their offices. North Park is next to the Wells Fargo building; Central Park, as the name suggests, is an interior deck that often is filled with the hoards of construction workers rushing to prepare AXA Equitable space and the 59,000-square-foot Classic Graphics expansion. Together the two decks have added 1,650 spaces to the 200- acre facility.
One thing those of us who are based here understand. Changes come quickly to meet the needs of the 5,000-plus people who will call Innovation Park their home base. Despite the long history of the complex, time never stands still.