CMC-University pioneered community-based health care in Charlotte when it opened in 1986. "It was the first hospital not stuck in downtown,"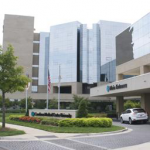 says President Bill Leonard.
CMC-University continues to break ground. It recently earned the first designation in America for giving top-tier in-patient treatment of the leading form of men's cancer, prostate cancer.
"We have the processes, the people and the equipment that really are at the forefront of cancer care in the country," Leonard says.
SYSTEMWIDE FOCUS ON GOOD CARE CLOSE TO HOME
That designation and several others earned by CMC-University reflect Carolinas Healthcare System's efforts to provide top-level care across the Charlotte region and close to where people live and work, Leonard says. "It adds stress to patient care when people have difficult commutes" to get treatment, he said. "That's not in patients' best interest."
Leonard recently spoke about the new prostate-cancer certification and other achievements at the January meeting of the Charlotte Chamber – University City Chapter.
CMC-UNIVERSITY HAS 5 CARE CERTIFICATIONS
The prostate-cancer certification comes from the Joint Commission, a group that assesses medical care nationwide. CMC-University already has Disease-Specific Care Certification for advanced in-patient diabetes care, maternal-child care, heart failure and acute coronary syndrome.
Each Joint Commission certification required hospital staff to demonstrate effective use of evidence-based clinical practice guidelines to manage care, measure results and improve outcomes.
These certifications help CMC-University meet its goal of being "a comprehensive community hospital serving University City and surrounding suburban markets, developing selected advanced services."
MEETING THE COMMUNITY'S NEEDS
Leonard said that CMC-University pursued the prostate-cancer certification because University City has a racially diverse population, and African-American and other non-Caucasian men are at a higher risk of developing the disease. "In University City, we knew it was a need."
"We also had key stakeholders on our team," he added, "specifically the Urology Specialists of the Carolinas physicians Roberto Ferraro and Timothy Gajewski, who are on our staff and practicing here and who had the expertise to help meet that need in our community."
CMC-University also is a charter member of Carolinas HealthCare System's Levine Cancer Institute, a network of elite cancer centers across the Carolinas that provides patients greater access to cancer care closer to where they live and work.
TOP TECHNOLOGY, TOO
"We have the most advanced technology available to deal with kidney cancer, with a robotic illumination system called Firefly," Leonard said. "We just got it, and it is unique in this part of the state."
The other Disease-Specific Care certifications for diabetes, heart and maternal-child care also target CMC-University's community – including the 35,000 people who work nearby, Leonard noted.
The maternal-child care certification provides assurance of good care to University City's many women of childbearing age. About 1,600 babies were born at CMC-University in 2012.
"Diabetes is a major issue across all of Charlotte and certainly University City," Leonard said.
"We have an extraordinarily busy emergency department, and because of that we have to be very good at cardiology, so we are certified for chest pain and coronary syndrome."
Leonard hopes that these certifications and other CMC-University quality-control efforts send a strong message to the community that "We are safe."
"We are trying to be more systematic as an industry and at Carolinas Medical Center and CMC-University," he said. "We want objective quality and safety measures that we can, No. 1, work to improve and, No. 2, show how we are doing so people can have confidence to let us take care of them."