One of University Research Park's oldest residents continues to grow. EPRI has completed renovating and occupying the former Verbatim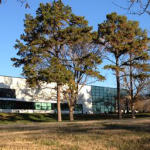 building next door – now officially EPRI Building No. 3. "They did a very good job of turning a big, empty factory into a really well-lighted and good looking office, lab and meeting facility," says EPRI spokesman Jeremy Dreier.
GLOBAL ENERGY INDUSTRY FINDS ANSWERS HERE
The Electric Power Research Institute, a U.S.-based nonprofit company, serves the global energy industry from several key locations including the Charlotte facility on Harris Boulevard, where more than 200 people conduct research into improving power grids and preventing power-plant failures.
EPRI Charlotte also hosts more than 2,000 visitors a year from across the globe. "We do research and development in a highly collaborative way, which means we bring a lot of people into the process," Dreier said. Visitors come to help develop those improvements and to learn how to implement them.
The EPRI Charlotte campus now includes 45 acres and three buildings totaling more than 300,000 square feet. The 107,000-square-foot "new" building was erected in 1984 by Verbatim to make floppy discs. Speed Channel occupies an adjacent building that was also part of the Verbatim complex.
EPRI's renovations include a 5,400-square-foot meeting area that can handle large groups or be subdivided into six smaller rooms. EPRI already has a full-service cafeteria for its visitors. "An advantage of hosting bigger meetings on your own campus is that it helps you manage costs, and makes it very convenient for EPRI people to go in and out of the meeting," Dreier said.
EPRI A KEY PART OF CHARLOTTE'S SURGING ENERGY HUB
EPRI said it bought the Verbatim building and 24 acres to accommodate growth in its business here, particularly as Charlotte establishes itself as national energy hub. Duke Energy recently became the county's largest electric utility by market value. Meanwhile, enrollment at UNC Charlotte's engineering school surged 40 percent this year, with many students studying energy-related fields.
"We are extremely bullish on Charlotte," Dreier said – and on University City.
"You know, the University City area really has the complete package. It has good accommodations. It has great food. It's a straight shot to both the airport and downtown.
"The biggest utility in the country is headquartered here in Charlotte, and we can be at Duke's offices or they can be here in a few minutes. And Charlotte is a great city to get in and out of for the whole world."