Long before Charlotte's marketing gurus hit upon the idea of an energy hub, experts from around the world were coming to Electric Power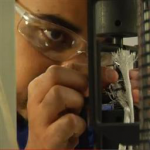 Research Institute's facility in University Research Park for help with their most challenging energy issues. EPRI Charlotte's global role continues to grow – and so have its staff and campus. EPRI got much needed expansion room last fall when it bought the former Verbatim building and 24 acres next door.
EPRI SERVES A GLOBAL AUDIENCE
Research into improving our power grid and preventing power-plant failures have made EPRI Charlotte a key player in the global energy field. The Charlotte facility opened in the early 1980s and is one of four EPRI research centers nationwide. EPRI serves most major US utilities and has clients in 40 other countries.
The low-key entrance on Harris Boulevard – and the meaningless EPRI acronym – gives no hint of the high-level work taking place at EPRI Charlotte. The staff of about 200 engineers and scientists provides research and develops new products to improve power transmission and both nuclear- and traditional fossil-fuel- power generation.
RESEARCHERS HERE FOCUS ON GRID AND POWER PLANTS
One current project explores ways to increase the capacity of America's power grid. Another is developing robots to crawl along high-voltage power lines and inspect them for problems.
Much of EPRI Charlotte's research seeks to help utilities keep their power plants – especially nuclear power plants – running safely.
How do you find potential weak spots in materials subjected to intense heat and pressure? "EPRI spearheaded the miniaturization of ultrasound technology to improve the ability of nuclear plants to evaluate the health of various components," says a new EPRI video about its Charlotte operations.
Another EPRI project developed equipment that can safely take small samples from deep inside existing plants. At the Charlotte labs, researchers can examine those samples down to the molecular level.
$800,000 GRANT FOR SAFER NUCLEAR PLANTS
The Department of Energy in July awarded an $800,000 grant to EPRI Charlotte to study ways to make more durable large components for nuclear reactors.
EPRI Charlotte also serves as a meeting place and training center for hundreds of energy experts. In just two weeks this month, groups came to hear about groundwater protection, pipe corrosion and instrumentation reliability. Many of EPRI's programs draw foreign visitors. Nearby hotels have developed expertise in making international guests feel more at home.