With apologies to Mark Twain, the demise of transit to University City has been greatly exaggerated. While you may have heard about a few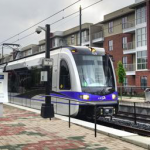 bumps along its journey, the train to UNC Charlotte remains on track. In fact, breaking news is that our Blue Line Extension has hit another major milestone!
GOOD NEWS IS IN THE MAIL
CATS (Charlotte Area Transit System) just learned that the Federal Transit Administration has favorably reviewed the rail line's final design and passed it along for a letter that should come from the FTA's regional office the week of July 9.
OK ON FEDERAL FUNDING IN NOVEMBER?
Approval of a transit line's final design sets up the project for the Full Funding Grant Agreement (FFGA), the final step in gaining federal funding for half of the project's cost. The deadline for the FFGA decision is literally the day before the November election, although there is hope the decision will come earlier.
The Blue Line Extension (BLE) has demonstrated remarkable resilience by consistently overcoming every obstacle in its path. Most recently, it was in – then out – then back in the state budget. That budget was just approved, having survived a gubernatorial veto (not because of the BLE, we hasten to add).
LET'S THANK OUR LEGISLATORS
Much appreciation is due state legislators for their work taking BLE funding through the tortuous conference-committee process and for local advocates who spoke so eloquently on our rail line's value.
A final clarification, City Council's reluctance to approve a 2012 capital-improvement plan does not derail the project. While having needed connections made during or before rail-line construction is preferable, University City is as resilient as the Blue Line Extension. It will use whatever portions of the already approved $30 million bonds of 2008 and 2010 can be allocated to begin the process.

Learn More