Buried in news about AXA Equitable and Wells Fargo signing leases at Innovation Park was the fact that, in the past 19 month, BECO South has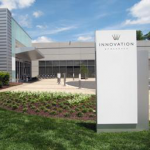 leased 500,000 square feet in Innovation Park. Given the economic climate, that is an impressive total.
DRAMATIC CHANGES AT OLD IBM COMPLEX
Visitors to Innovation Park like the dramatic changes taking place in the former IBM campus off Harris Boulevard. From parking decks, nature lounges, fitness centers, and soon a new café to electric-car charging stations, bikes to check out and a farmers' market every Thursday, the 30-plus-year-old complex is being transformed. That plus the clever marketing, easy accessibility and the area's rich employee base have reinvigorated interest in the University Research Park.
AXA has an active transition team that is busily educating itself on what is available nearby, from apartments for contract workers to schools, restaurants and shopping. Wells Fargo is still analyzing which departments will make their move. Meanwhile demolition has begun in anticipation of the upfitting for employees. Once those relocations are completed, there will be 5,000 employees on site. The 1.9 million-square-foot campus will be 75 percent full – another remarkable feat for a complex that, when bought two years ago, was almost 70 percent empty.
A RISING TIDE LIFTS ALL BOATS
Within days of Innovation Park's news, Peak 10 announced it was expanding its Charlotte footprint northward to the University Research Park. Its new 62,000-square-foot facility will be built out in phases in the David Taylor Corporate Center. URP has long been a preferred location for companies with high energy needs because of its redundant power sources.
As this article was being written, McKesson Corporation expanded its Four Resource Square lease from 58,696 square feet to 75,057. The Fortune 500 company moved into the building on David Taylor Drive in 1999. There are currently five Resource Square class A multitenant buildings sitting on 100 acres on the Mallard Creek Church Road and David Taylor Drive edge of the University Research Park