Our busy airport is getting $5.5 million for improvements. The FAA money will help Concord Regional Airport maintain its taxiway and plane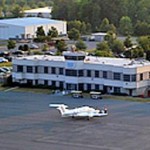 parking area – an important investment in a facility that handles more than 150 takeoffs and landings daily, including Boeing 737 jets.
Concord Regional opened 17 years ago and soon became the primary reliever airport for Charlotte-Douglas International Airport.
Today nearly 200 airplanes are based at the facility, including several that serve the area's many NASCAR teams.
While most of the airport's business focuses on smaller planes, the 60-ton 737s show how vital our airport has become, even as Charlotte-Douglas International Airport surges to the top of all airports in America.
Funding for the latest improvements comes from a $22.8 million FAA grant to North Carolina.
The funds will be used to strengthen the existing taxiway and aircraft parking apron. As larger and heavier aircraft use the airport, the increased pavement strength will be needed to support the extra weight, said a statement from the NC Department of Transportation.
"Concord Regional Airport is one of our state's busiest general aviation facilities," said Division of Aviation Director Richard Walls. "The project will allow the airport to further expand its operations and better serve this region."
Airport Director Dick Lewis said work should start in April so that the facility is ready for the surge in landings expected in September when Charlotte hosts the Democratic national convention.