People looking for signs that the economy finally has turned will soon have a big red one in the shape of a guitar. Guitar Center, a national chain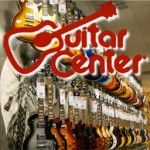 of superstores for all things musical, is renovating half of the former Best Buy store at University Place for its fifth N.C. location.
"This is a great tenant," said Nancy Reitz, property manager for University Place. "It's a perfect location for Guitar Center," she added. She said the store expects to open this spring.
Guitar Center is the world's largest retailer of guitars, amplifiers, drums, keyboards, recording, live sound, DJ and lighting equipment.
The 224-store chain began in Hollywood in the early 1960s. Last year it opened 10 stores in locations ranging from Yonkers, N.Y., to Houston, Tx. Charlotte's first Guitar Center opened 10 years ago in Matthews.
Guitar Center says its stores feature well-equipped showrooms with the latest products for the musician, from guitars, amplifiers, percussion instruments and keyboards to live sound, DJ, lighting and recording equipment.
All of the stores that have opened in the last year also have a new design with a more open layout that enhances Guitar Center categories such as live sound, recording and keyboards.
Guitar Centers offer programs to educate and inspire musicians, such as classes like Music Production 101.
In addition to special programs at each store, Guitar Center offers nationwide programs designed to spearhead creativity and highlight the nation's most promising undiscovered talent. These include:
Your Next Record gives artists a chance to record with some of the top recording artists in the country, including legendary guitarist Slash, country superstar Keith Urban, and rock icon Travis Barker.
Guitar Center On-Stage gives undiscovered bands the opportunity to compete against their peers for a chance to share a stage with their idols. The most recent On-Stage competition featured Jane's Addiction, for more info go to http://gc.guitarcenter.com/onstage/.
Guitar Center's Drum-Off and King of the Blues are national competitions that highlight local talent from across the country, giving them widespread exposure and the chance to win incredible prize packages.
Besides its retail-store operation, Guitar Center is the largest direct-response retailer of musical instruments in the United States through its wholly owned subsidiary, Musician's Friend, Inc., and its catalog and Web site, www.musiciansfriend.com.
In addition, the company's Music & Arts division operates more than 100 stores specializing in band instruments for sale and rental, serving teachers, band directors, college professors and students.