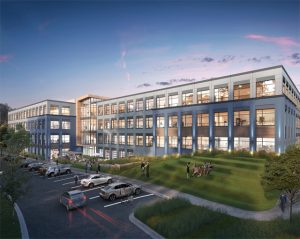 University Research Park will soon have a new office building targeting "first-generation creative office space." Crescent Communities has begun site work near David Taylor Drive and West Mallard Creek Church Road on the 158,000 square-foot building.
The new office building, to be called Escent Research Park, will be the first multi-tenant office building erected in the park since the early 2000s. Several Resource Square office buildings along David Taylor Drive were developed by Crescent at that time.
In a news release about the new building, Crescent Communities says that the new building will offer creative office space and an extensive amenity package along with abundant green space and outdoor gathering areas on its 20-acre site.
University Research Park has several walking trails and segments of the Mallard Creek and Clarks Creek greenways, which in turn connect the park to several neighborhoods and UNC Charlotte.
Filling the void for creative office space
"We see a void in the marketplace for first-generation creative office space in the growing University Research Park area of Charlotte," said Sagar Rathie, Vice President with the Commercial business for Crescent Communities.
"Escent Research Park will provide a dynamic working environment that fosters connection, collaboration, and creativity in the second largest employment center within our region."
Crescent said it expects to complete the building in 2021 and is pursuing certifications including LEED, Fitwel and WiredScore.
Well connected to nearby roads, retail and LYNX
The site will have direct access to both Mallard Creek Church Road and David Taylor Drive. Office workers will also be just a short walk away from a planned retail center that will flank both sides of David Taylor Drive at the Mallard Creek Church Road intersection. Details
Within a few years, workers also will have much more direct access by vehicle and bike to the LYNX light-rail line on North Tryon Street.
The city of Charlotte recently began buying right of way for a new bridge, road and bikeway over I-85 that will connect this part of University Research Park to the LYNX light-rail station at JW Clay Boulevard and North Tryon Street, as well as to UNC Charlotte and University Place. Details
Growing multi-tenant office segment
University City is Charlotte's No. 2 employment center. Many of those workers are in large single-tenant facilities within University Research Park, including the TIAA complex, Electrolux headquarters, Wells Fargo CIC and multiple Duke Energy facilities.
Since the end of the last recession, the demand for multitenant office space has heated up, with both major building renovations and, now, new construction.
Waters Edge – EB Arrow, which bought 30 acres and several retail buildings at University Place, will start work in 2020 on a new Class A office building overlooking the lake, along with new residential, retail and a waterfront park. Details
Innovation Park – BECO Management bought the former IBM facility in 2012 and transformed it into Innovation Park, with several thousand workers and several major corporate tenants. Now Innovation Park has new owners, who in the last week have announced plans that will add hundreds of thousands of square feet of offices, housing and retail to the 200-acre site. Details
6800 Solectron Drive – Also in the last few days, the new owner of another former IBM office/warehouse building at 6800 Solectron Drive, has announced plans to redevelop the 51-acre site and building into a major office center. Details
Learn more about Escent Research Park