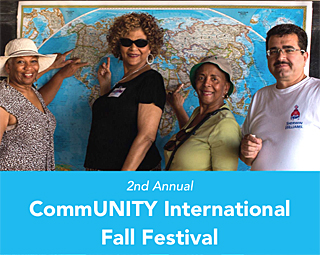 Keith Family YMCA invites the world and especially University City residents to celebrate our global connections at the 2nd annual CommUNITY International Fall Festival.
The free event celebrating togetherness, inclusiveness and acceptance will take place 10 am-2 pm Oct. 27 at the Keith Family YMCA, 8100 Old Mallard Creek Road. DIRECTIONS
The festival will include music, dance, bounce houses, family activities, fellowship and refreshments. You do not need to be a YMCA member to take part.
The event will take place rain or shine. Come to the outdoor fields unless there is rain, when the festival will be held in the basketball gym.
Click here to learn more about the festival.