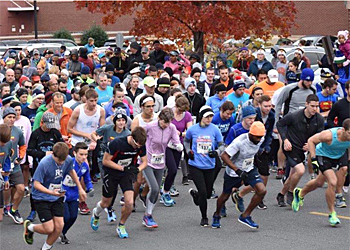 The Healthy UCity Race Series is at the starting line for the fall/winter season. Here's your chance to get or keep fit, make friends and earn a Healthy UCity T-shirt!
Races include the University City Turkey Trot; The Run Rudolph Run 5K/10Kand our inaugural New Year's Day 5K – Run or walk North Tryon Street; ride back on the LYNX!
Why a race series?
The Healthy UCity Race Series encourages health and wellness by providing events throughout the year for all ages and fitness levels. As a bonus, these University City events feature scenic routes and fantastic venues.
With events ranging from 10Ks to children's fun runs, there are plenty of opportunities for people of all ages to participate.
Most races benefit charities, including the Sickle Cell Partners of the Carolinas (Turkey Trot), the Dirt Divas Project Angel and Police Explorers Toy Drive (Run Run Rudolph) and University City food pantries (New Year's Day 5K).
How to earn a Healthy UCity Race Series T-Shirt
To give you extra motivation to take part in several of the events, we are providing Healthy UCity Race Series T-shirts to anyone who takes part in three or more events during the fall/winter or spring/summer race series.
Click here to learn more about the Healthy UCity Race Series.
Upcoming races
Turkey Trot 5K and Kids Run – Nov. 22, 2018
The University City Turkey Trot is an annual 5K race/walk on Thanksgiving Day.
The race will be held at 3024 Prosperity Church Road (formerly The Fresh Market). After the race, cool down and enjoy a
post-race mini-feast featuring food, drinks and music!
The event offers a fun run and costume competition!
This event is sponsored by Sickle Cell Partners of the Carolinas, a non-profit established to provide support for patients and families affected by sickle cell disease, a hereditary illness.
Run Run Rudolph 5K, 10 K and 1-mile fun run – Dec. 22, 2018
Enjoy a brisk morning run through University Research Park. Add to the fun by running in seasonal costumes.
The winners will be determined by the loudest applause at the finish line and rewarded with prizes such as a fully stocked hot-chocolate bar and a $50 Charlotte Running Co. gift card.