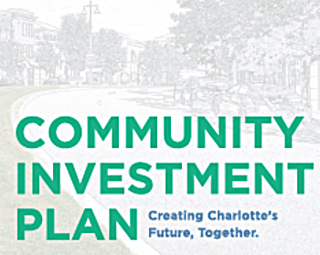 See the latest developments on the McCullough Drive Extension and J.W. Clay Boulevard streetscape projects at an open house 6:30-8 pm Oct. 5 at Oasis Shriners Center, 604 Doug Mayes Place.
The project team will present preliminary designs based on previous public input, plus have an open house afterward to get more input.
Clay and McCullough boulevards, which meet at East W.T. Harris Boulevard, form a crucial secondary traffic, bike and pedestrian artery through office parks, residential areas and retail centers circling the North Tryon-Harris Boulevard intersection. At the open house, the project team will explain how these projects will improve connectivity between the LYNX light-rail line opening next spring, UNC Charlotte, University Research Park and other businesses and neighborhoods in the area.
More about the McCullough Drive extension project
Originating from the Northeast Corridor Infrastructure Program (NECI) planning effort, this project proposes to provide a new street connection by extending McCullough Drive from North Tryon Street to the existing dead end at Ken Hoffman Drive.
The conceptual cross section includes two travel lanes, planting strips, curb & gutter and sidewalk.  Project website
Project video animation – Watch a short video showing how streetscape improvements and a new segment of roadway will transform and complete McCullough Drive.
More about the J.W. Clay Boulevard streetscape project
The project proposes to add bike lanes and add or improve sidewalks by widening parts of J.W. Clay Boulevard. The roadway and median width may be adjusted to allow for the addition of bike lanes. The project will include connectivity to the Barton Creek Greenway interface with J.W. Clay Boulevard. Project website
A related project, the I-85 North Bridge and roadway between University Place and University Research Park, will tie into Clay Boulevard and Doug Mayes Place.
Want to go?
The Northeast Corridor Infrastructure update for the McCullough Drive Extension and J.W. Clay Boulevard streetscape project will take place 6:30-8 pm Oct. 5 at the Oasis Shrine Center, 604 Doug Mayes Place. More event details. Directions to the Oasis Shriners Center