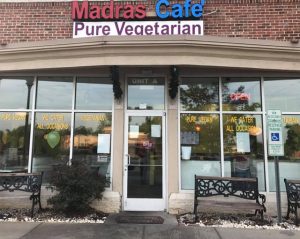 University City's diverse population includes many people with ties to India and Pakistan, as our our growing variety of restaurants and grocery stores attest. Madras Cafe, which opened last fall near University Research Park, adds an all-vegetarian Indian-Pakistani flavor to University City's diverse food offerings.
Charlotte Observer correspondent Tom Hanchett, a well-known local historian, recently visited Madras and offers a good look at its founders and the dishes they offer. Read the article.
Learn more
Madras Cafe is open 11 am-3 pm and 6-10:30 pm Tuesdays-Sundays at 3130 Driwood Court (the small shopping center Mallard Creek and Prosperity Church roads). For more information, visit madrascafecharlotte.com or call 980-237-1947. See dozens of photos of dishes on the Madras Facebook page.