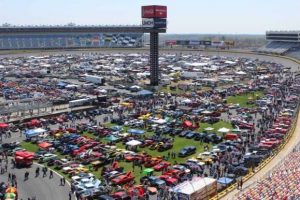 From classic Cameros to Twiggy the Water-Skiing Squirrel, the Pennzoil AutoFair at Charlotte Motor Speedway April 6-9 promises something for everyone who loves cars, and even fun for those who don't.
By everything, we mean 10,000 auto-vendor displays, 50 car-club displays, a massive manufacturers midway and special programs like Women in Racing, the 50th anniversary display of Camaros and Firebirds and, let's not forget, Twiggy the Water-Skiing Squirrel.
This show is so big, you can rent scooters to get around the grounds and motor homes to spend the night!
Event details, tickets and schedule
Gates open at 8 am April 6-9 at the speedway, just east of the Mecklenburg County line on U.S. 29 (North Tryon Street) at Bruton Smith Boulevard.
Schedule – The fair runs 8 am-6 pm April 6-8 and 8 am-4 pm April 9, with events throughout each day. Download schedule
Tickets – Visitors can buy one- and four-day passes. Kids 13 and under get in free with a paying adult. Buy tickets online
Maps and parking – No place in Charlotte does a better job handling massive crowds. Watch for signs as you approach the speedway. Download facility map