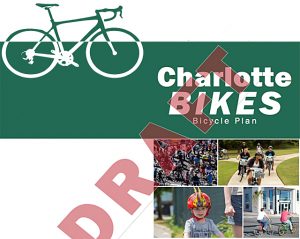 Charlotte created its current Bicycle Master Plan in 2008 – ancient history in the evolution of post-auto transportation. A new plan is nearing completion, and transportation planners want YOU to look it over and tell them what you think of their "blueprint for an increasingly bicycle-friendly city." Here's how to get the plan and take the survey.
About the proposed bike plan
Called Charlotte Bikes, this new document, if approved, will serve as the city's blueprint to becoming a more bicycle-friendly city. Charlotte Bikes is intended to provide the vision, goals, strategies and recommended efforts to expand the city's physical network of bicycle facilities with a corresponding growth in a culture that recognizes and welcomes the bicycle as a means of transportation for people of all ages and abilities.
City transportation staff developed the plan with help from Charlotte's Bicycle Advisory Committee and from information gathered at public workshops.
Take the survey by April 3
The public is invited to view the draft Charlotte Bikes plan and then let city staff know what we think of it by submitting comments online. The city is collecting comments through April 3. If you have any general comments about bicycling in Charlotte, email Ben Miller, Charlotte's Bicycle Program Coordinator, at bgmiller@charlottenc.gov or call 704-336-2278.