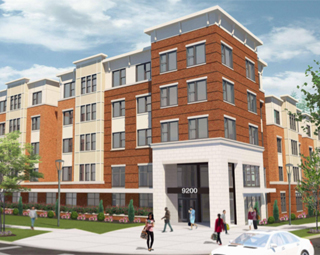 A recent property sale near UNC Charlotte for a new apartment community appears to have set a record for land cost per acre.
Haven Campus Communities – Charlotte LLC in December bought 6.8 acres on University City Boulevard and Sandburg Avenue for a total of $7,675,000, based on excise taxes paid. That works out to $1,122,404 per acre.
By comparison, a national apartment developer, Oxford Properties, in the same week bought 15 acres directly across North Tryon Street from the University City Boulevard Transit Station and parking deck for $6,350,000, or $423,333 per acre. This site is in the master-planned mixed-use community called University City Gateway.
Plans for campus site
Haven Campus Communities plans to build 322 apartments in buildings up to five-stories high, with structured parking on the interior. That development will work out to 47 units per acre vs. the 17 units per acre density that is common among nearby suburban apartment developments.
First, however, Haven must clear the property of several residential buildings including the 38-unit College Station Apartments, built in 1987. Demolition began recently on the seven College Station buildings, at a cost of between $11,500 and $16,200 per building.
Plans for transit site
Oxford Properties has not announced plans for its property. CityPark View Apartments, which Oxford Properties built in 2013 on the former Charlotte Coliseum site, has about 26 units per acre.  The developer of University City Gateway, McKinney Holdings, recently had Oxford's 15-acre site rezoned to Transit Oriented Development-Mixed Use, which allows high-density development of retail, office and residential space.