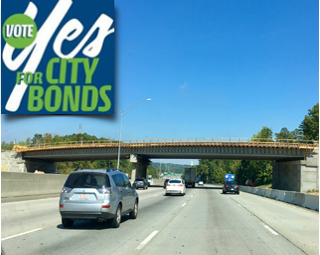 The chasm separating Research Park workers and the North Tryon Street business district and light-rail line is being bridged – with help from city transportation bond packages. The I-85 South Bridge, funded with 2014 bonds, will open early next year. Funding for the I-85 North Bridge is included in this November's bond package.
If voters approve the 2016 bonds, construction on the second bridge could start by early 2019. The 2016 bond package includes $15 million for the bridge. Federal funding will provide another $7.4 million.
Learn more at the Charlotte Bond Referendum website
Project details
The I-85 South and I-85 North bridges will provide crossings over the Interstate midway between existing interchanges at University City Boulevard, West W.T. Harris Boulevard and Mallard Creek Church Road.
The new bridges, however, will have no connection to I-85. Instead, these bridges and their sidewalks and bike lanes will help cars, buses, bikes and pedestrians move between University Research Park and the LYNX transit stations on North Tryon Street.
The I-85 South Bridge – will connect Innovation Park and IBM Drive, north of I-85, to the Belgate mixed-use development, IKEA and North Tryon Street south of I-85. University Pointe Boulevard, which now dead-ends just north of IKEA Boulevard, will be extended to a new traffic circle on IBM Drive just north of Martin Middle School. Project website
The I-85 North Bridge – will connect Research Drive north of I-85 to JW Clay Boulevard and University Place south of I-85. The project includes improvements to Doug Mayes Place and Louis Rose Place. Project website
Learn more about I-85 N. Bridge at Nov. 3 meeting
The public can get information about the planned I-85 North Bridge at a community meeting on Nov. 3 at Elevation Church, 8105 IBM Drive. The meeting will start at 6 pm, with a short presentation at 6:30. City staff will be present to answer questions and explain project details.