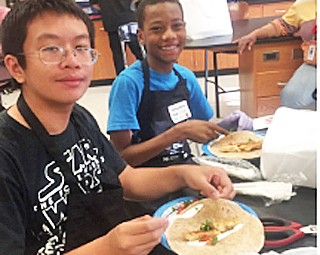 By Abigail Armstrong
Aon Hewitt Financial Advisors, with offices at Innovation Park, provides investment advisory services, financial planning, benefits counseling and financial education to employees and retirees. Aon Hewitt's employees also are helping improve the lives and health of students in University City's four Governor's Village schools.
This fall, Aon Hewitt Financial Advisors has partnered with the American Heart Association in its nationwide Kids Cook With Heart culinary program.
One in three American children is overweight or obese due to lack of exercise and unhealthy foods, the American Heart Association says. Kids Cook With Heart integrates hands-on healthy cooking and nutrition lessons into cardiovascular health education. Students also learn life skills in advocacy, leadership, responsibility and teamwork.
The program started at John Motley Morehead STEM Academy in October and will go until mid-November. Each week, Aon Hewitt volunteers help Morehead Academy students learn how to properly wash, cut, sauté, cook and, of course, eat healthy foods.
In the first week of the program, students learned how to make fresh salsa and chicken fajitas! At the end of the program, students will compete against each other in a cook-off to demonstrate their new skills in the kitchen.
The judges will be Aon Hewitt volunteers. A trophy for 1st place will be awarded, along with bragging rights!