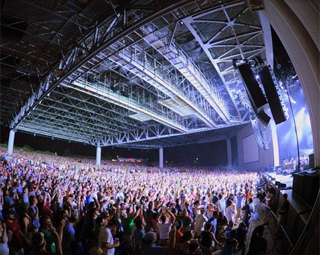 Five weeks to go before the kids head back to school. Eight weeks until the start of fall! There's no need to get bored or go crazy, with so much to do for all ages in University City.
Hike, bike, catch the first 49ers games or enjoy the Hummingbird Festival. Check out our list, and get going!
University City Partners has compiled this list of activities and opportunities available through the end of September. As long as this list is, we may have missed a great program or activity that you know about. Please let us know by sending an email with details, including your name, to Rich Haag at richhaag@me.com. We can update our web article and calendar as we receive your information.
Cheer for the 49ers!
Men's and women's soccer and volleyball crank up in mid-August. Exciting competition for just $5 per adult, $2 each for kids.
Men's soccer is nationally ranked. See why at 7 pm Aug. 16 in this exhibition match vs. Belmont at Transamerica Field.
The women's soccer team just got back from playing in the British Isles. Their first home match is 7 pm Aug. 19 vs. Western Carolina, also at Transamerica Field.
The volleyball team starts its season with the annual Charlotte Invitational tournament Aug. 26-27 in Halton Arena. Four games in two days vs. Elon, Campbell, Mercer and South Florida.
Details for all sports at Charlotte49ers.com; tickets at 704-687-4949
Catch 49er football fever!
The first home game kicks off at 6 pm Sept. 10 vs. Elon in Jerry Richardson Stadium. Read up on the team and schedule at charlotte49ers.com. Get single-game general seating tickets for $20 starting Aug. 2. Details
Get your Green on
The Barnes and Noble bookstore in the student union on Craver Road is the place to go for everything 49ers from T-shirts to stadium seat pads. The store's open 8 am-5 pm until fall semester starts on Aug. 22. Shop on line, too.
Stroll the campus gardens
The most extensive botanical gardens in Charlotte fill 10 acres of UNC Charlotte glens along Mary Alexander Road. The outdoor gardens showcase much of the natural flora of North Carolina. You can walk the garden paths from dawn to dusk daily. One must-see display for the kids is the collection of carnivorous plants (many native to NC) in the McMillan Greenhouse, open 9-4 Mon-Sat and 1-4 Sun. There's no cost, though a $2 donation is encouraged.
Learn more at gardens.uncc.edu. See daily blooms on the gardens' Facebook page.
Turn flowers into summer memories
Learn how to press flowers and create a journal of your favorite garden moments at this program offered 9 am-noon Aug. 9 at McMillan Greenhouse at UNC Charlotte. Space is limited. Get details and register by calling 704-687-8622 or emailing Esther at ecarras1@uncc.edu.
Celebrate National Park and Rec Month
We are rapidly becoming a city, and great cities have great parks – like our extensive greenway network, the sprawling Reedy Creek Park and Nature Preserve, and quiet corners of the UNC Charlotte campus.
The Reedy Creek Nature Center also has many great programs for children and adults (see below). Celebrate National Park and Rec Month by exploring the many opportunities nearby to play, learn and explore outdoors. Among the choices in University City:
Learn about nature with these programs
Reedy Creek Nature Preserve is a great place to take the family to learn and play. The center has displays, live animals, a small gift shop and rooms for its frequent programs. Outside in the forest is a unique playground filled with fanciful tree houses and musical instruments made from wood.
The center is at 2900 Rocky River Road, a mile east of East W.T. Harris Boulevard. The center is open 9 am-5 pm Mon.-Sat. and 1-5 Sun. 980-314-1119.
The center is a hub of learning and fun for all ages, with more than 50 programs – many of them free – scheduled between now and the end of September. Most require reservations, however, since space is limited. See the programs and make reservations – CLICK to access a well-done database of all programs offered throughout Mecklenburg County's parks.
A sampling of upcoming activities at Reedy Creek Nature Center:
Bark Boats – 2 pm July 30 for ages 6 and up. Learn how to make toy boats out of bark and other natural materials, then see how they float in a nearby stream. Dress to get muddy!
Nature Story Corner – 10 am Aug. 11 for children ages 3-7. Staff will read nature-based stories, often using puppets and audience participation. Afterward, children will walk in the forest and do an activity related to the story.
Live Animal Feeding – 2 pm Aug. 11 for all ages. Come to the center for a brief program as the staff feeds some of the center's animals and answer your questions.
Hummingbird Festival – 9 am-3 pm Aug. 20. This very popular and free annual event celebrates these amazing birds that migrate thousands of miles between the Carolinas and Mexico and Central America. Learn about the birds and how to make backyard habitats; see local artwork inspired by the birds. Other activities, too. FESTIVAL DETAILS
Play disc golf for free in our parks
Charlotte is a hotbed of this fun-for-all-ages-and-abilities sport, where you can play for free with nothing more than a flying disc (though specialized discs make your throws much more accurate!).
Find courses nearby at Reedy Creek Park (the region's first one), Sugaw Creek Park on Sugar Creek Road and Nevin Park on Old Statesville Road.
Charlotte Disc Golf Club runs leagues and tournaments at area courses and maintains an interactive map on its website. For instance, the Reedy Creek AM League plays every Sunday morning starting at 9:45. CLICK to learn more.
Golf at The Tradition and Highland Creek
Our region has many daily fee courses, including The Tradition on Prosperity Church Road and the Highland Creek Golf Club on Highland Creek Parkway.
Both are managed by the same company, and both will challenge your golfing skills without breaking the bank.
Reduced rates are available for youth and seniors.
Get loud at PNC Music Pavilion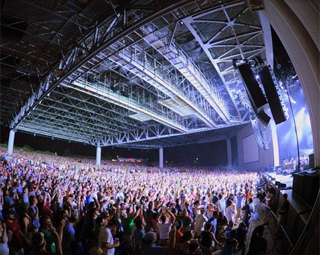 The region's biggest outdoor music venue is in University City, and it has an awesome lineup of entertainers all the way through October.
The dozen remaining shows scheduled at the PNC Music Pavilion range from Counting Crows and Rob Thomas on Wednesday, July 27, to the Dixie Chicks on Aug. 13.
The Pavilion seats nearly 19,000 including 8,614 reserved seats under a massive canopy and more than 10,000 on the surrounding lawn. Most shows allow blankets and lawn chairs. CLICK for details.
Get louder at Charlotte Motor Speedway!
We have not checked the decibel level, but we are certain that the loudest – and definitely the fastest – events in Charlotte take place at Charlotte Motor Speedway, Dirt Track and zMAX Dragway.
Tonight's Media Mayhem school bus race and Bojangles' Summer Shootout are among nine races and events here through the end of September – and that's even before the massive October NASCAR events culminating with the Bank of America 500 on Oct. 8. CLICK for details and tickets.
Go global at UNC Charlotte International Festival
On Sept. 24, UNC Charlotte will host the oldest and biggest celebration of our region's global connections. The International Festival will offer displays, food and performances representing the cultures of more than 50 nations.
The festival takes place indoors and out at the Barnhardt Student Activities Center.Enjoy food, arts, games, music, dancing and, of course the thousands of participants and visitors (last year's event drew 20,000!)!
Get all the details at ifest.uncc.edu. CLICK to see hundreds of photos from the 2015 festival.