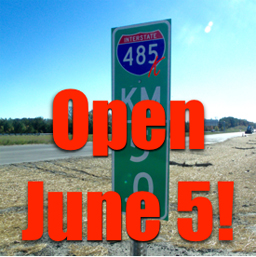 Even before the Outer Belt through University City opens on June 5, the state has increased its speed limit! The Transportation Department announced this week that it will open the last 5.7-mile segment of I-485 on June 5. Today the state added that it will raise the I-485 speed limit from 65 to 70 mph on May 29.
Here is the official word from the state Transportation Department:
CHARLOTTE – As completion of the final segment of the I-485 Outer Loop nears, N.C. Department of Transportation officials will begin implementing a 70 mph speed limit for the entirety of the 67-mile outer belt. NCDOT crews will be working along I-485 to install and update signs beginning Tuesday, May 26, with the change complete by Friday, May 29.
The I-485 Outer Loop is an important corridor for local and regional travel. In an effort to ensure this important road is operating safely and efficiently, NCDOT recently conducted 18 spot speed studies along I-485. Those studies revealed most traffic already traveled along I-485 at a rate of 70-75 mph. Also, I-485 has a design speed of 70 mph, meaning the speed of 70 mph was used when making decisions related to roadway design. Based on the Department's speed studies and the design speed of the roadway, NCDOT decided to implement the new speed limit.
Additionally, posting the speed limit at 70 mph should decrease the overall speed differential on the roadway, thereby creating a safer roadway for motorists. Although motorists should never travel at a higher speed than what's safe, it's optimal for a majority of motorists to travel at or around the same speed.
Currently, the posted speed limit for the Outer Loop is 65 mph. Once work is completed on the recently widened section from I-77 to Rea Road in south Charlotte, that segment will also be signed with a 70 mph speed limit. The final segment of I-485 from N.C. 115 to I-85, scheduled to open Friday, June 5, will also have a 70 mph speed limit.
Motorists are encouraged to obey the posted speed limit at all times. Never travel faster than what is safe for the road conditions at hand. When driving through a work zone, slow down, use caution and be on the lookout for crews working along the roadway.
Read more about the I-485 opening and see new photos of the final work in the Charlotte Observer