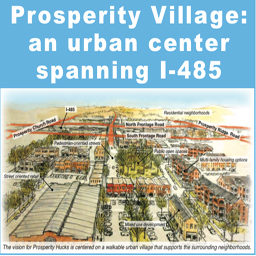 Imagine having a Birkdale-style urban village near Highland Creek and neighborhoods along Prosperity Church Road. That future center could come soon, if Charlotte voters pass Charlotte's bonds. Prosperity Village is taking shape where Prosperity Church Road meets I-485 – just 3 miles north of University Research Park. City planners say that building streets, sidewalks, bikeways and public space soon will help the "village" take off once traffic flows on I-485. The city bond package going before voters now through Nov. 4 includes millions of dollars for those improvements.
15 years in the making
The original concept for this village dates back 15 years, when an imaginative city planner named Warren Burgess proposed creating the most unique interchange on Charlotte's future Outer Belt.
Imagine creating not one but three roads side by side with shared access to I-485. Then have those three streets flow through "villages" of multistory shops, offices and housing on both sides of the Outer Belt. Add plenty of sidewalks and bikeways for people to get around without cars, too.
The outer belt funding got sidetracked in the NC legislature for a decade, and the plan mostly sat on a shelf. But once construction began for real three years ago, city planners resurrected the old plan and expanded it to include the many neighborhoods that have sprung up since the plan's creation. The new Prosperity Hucks Area Plan is nearing final form after several public meetings. The full area plan covers several square miles including Highland Creek. But Prosperity Village remains as the commercial heart of this district.
"This is a special time"
The introduction to the Prosperity Hucks Area Plan notes that Charlotte has a brief window after I-485 opens in which to successfully launch Prosperity Village. "The completion of the I-485 interchange and its supporting transportation infrastructure will dramatically reposition this area within the region. This public investment in infrastructure will bring with it new opportunities for private investment and development."
The draft document of the plan adds, "With potential for residential and commercial growth, the city has identified several opportunities in this area for neighborhood projects to increase connectivity and catalyze the anticipated growth. Throughout the implementation of the Community Investment Plan (CIP), Prosperity/Hucks area will see a total of $30 million of investment over the eight-year period.
"Projects could include infrastructure improvements such as sidewalks, curb and gutter, bike lanes, on-street parking, pedestrian cross walks and landscaping. Infrastructure improvements could also support future development of city and county services such as parks, greenways and libraries."
The city plans to continue its dialogues with area residents to craft the final plan. More meetings are scheduled to start in November. But the plan's success ultimately will require support by Charlotte voters as a whole. "The passage of this year's bonds will keep the planning and implementation process on schedule," the planning document says. "Failure to pass the bonds could delay some of the projects for years if not indefinitely."
More about Prosperity Village and City bonds