For a number of folks, the fact that the Blue Line Extension (BLE) will be open in spring of 2017 will not come as news. However, a surprising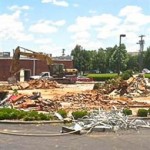 number of folks got confused by the streetcar debate or by having heard promises of light rail for so long that they have tuned it all out.
• RAIL FROM TO SOUTH CHARLOTTE TO UNCC – This northeast line is a continuation of the highly acclaimed LYNX Blue Line to south Charlotte. When completed, you could park as far south as the large deck at I-485 and South Boulevard near Pineville and come all the way onto campus at UNC Charlotte – or anywhere in between.
• FUNDING IS SET – The state and federal authorizations (called Full Funding Grant Agreements) are in place.
• SLIGHTLY SHORTER THAN PLANNED – CATS originally planned to build our line to I-485 near Tryon. By temporarily ending our line on campus, instead, CATS was able to trim the budget to fit the new sales-tax funding stream.
WHERE LINE WILL GO
There also is some confusion on the alignment. Leaving uptown at the current line's Ninth Street terminus, light rail will run on existing railroad right of way through NoDa and north to about Old Concord Road.
At that point, the light-rail tracks will swing onto North Tryon and into the wide median, where stations will also be located.
OUR STATION LOCATIONS
University City will have three stations along North Tryon and another on campus.
• UNIVERSITY CITY BLVD – The southern station is just south of University City Blvd and will have the larger parking deck to capture I-85 commuters who will park and take transit into town.
• MCCULLOUGH DRIVE – This will be a walk up; in other words it will not have a parking deck but can feed the apartments and offices based in the University Executive Park.
• JW CLAY BLVD – This station at University Place will be served by a smaller deck with perhaps 650-800 spaces.
• CAMPUS – Rail will enter campus north of the Charlotte Research Institute and end at a station near student housing on Cameron Boulevard. The line could be expanded north into Cabarrus.
WHAT IS GOING ON NOW?
• BUILDING RAZED – The first thing area folks will have seen is that the former Panda Express/Nona's Bakery building on Tryon at Clay Blvd has been razed (pictured above). As you hopefully know, Nona's has opened to brisk business in the Worthington Center on West WT Harris Boulevard in the research park.
• CONSTRUCTION CONTRACTS – At the June 24 City Council meeting, a contractor was hired to begin the utility work that is the first phase of building the BLE project. Much of that Phase I work will take place closer to center city. Don't despair; we will not be spared that disruption.
• LAND ACQUISITIONS – Millions of dollars have been authorized for a steady stream of property acquisitions to allow for construction. While some is for temporary easements, other properties will see access changes. In some cases, negotiations began as early as 2009. Another 41 were on the June 24 agenda, nine of which City and the owners had reached an agreement.
To keep the project on schedule, City has asked to be able to condemn while noting that negotiations and possible mediation will continue. In most cases, it will be decided without litigation.
A number of reasons call for use of condemnation – a tool Charlotte is reluctant to use. Sometimes no clear title exists; other times, papers did not come in time. Of course, a price dispute also triggers the process. Having waited this long for rail, no one wants to wait any longer.