Here's a little known fact. Many Charlotte roads are built as part of a rezoning, thus marrying transportation to land use. Case in point: The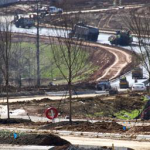 IKEA Boulevard extension to McCullough Drive that soon will offer a north-south alternative for folks now using North Tryon was required in the 2008 Belgate rezoning. That stub street in University Executive Park that links IKEA to McCullough has been in place over 20 years, also because of a rezoning.
BELGATE AND IKEA PROJECTS SPED 'WEAVE' MAKEOVER
Long-timers in University City will remember what was affectionately called the "weave" – named for its tricky and often calamitous zipper merges of highways 29, 49 and I-85. While those are state roads, the city put the redesign on a local bond package in 1998. Many meetings and designs followed, but it took the IKEA project to finally get what was for years called City Boulevard connected to North Tryon.
Much credit goes to both the State and City Departments of Transportation for working with Crescent Resources to shift funding around so Crescent's traffic engineers could construct the temporary link as they were building the roads for IKEA.
To allay concerns about stacking around I-85, Crescent also added to those inter-state ramps. That then set in motion the City's redesign of the "weave" – a project that came in under budget and nine months early. Now as you zip along University City Boulevard from campus to I-85, you can hardly remember what a mess that was.
OUR GRID-STREET NETWORK BEGINS TO EMERGE
Locals quickly figured out during the "weave" de-construction that the new roads around Walmart and IKEA gave you other ways to navigate the area. Again those roads were specified in zonings and often built with developer dollars, reflecting a good fusion of transportation and land-use planning.
ON THE HORIZON – NEW LINK ACROSS I-85?
An intriguing option that was included in the bond package that was delayed last fall is a flyover that would span I-85 just north of the new retail being built by DDR on IKEA Boulevard and come in near the Governor's Village schools. Its review is still moving through City Council's Transportation and Planning Committee,so the flyover may yet make it onto a bond package. DDR was required to build part of the road when they bought Belgate from Crescent.
NEW ROADS ALSO BRINGING SIDEWALKS, BIKE LANES
A final note about these new roads. Not only did they flesh out a much needed road grid, they are adding miles of new bike lanes and sidewalks. It's exciting to see the emergence of this non-vehicle network that was first envisioned in the Urban Boulevard study funded by University City Partners. So, as Paul Harvey used to say, "That's the rest of the story."