Darlene Heater
Executive Director
Darlene Heater is the executive director for University City Partners, which envisions and implements strategies and actions to drive University City's long term economic vitality as a center for employment, living, education, commerce and entertainment.
Heater is a graduate of The Ohio State University.  She has held roles in the public sector for nearly twenty years.  Prior to joining University City Partners, she was the Vice President of Neighborhood Development and Sustainability at Charlotte Center City Partners and Director of Strategic Partnerships for Charlotte Mecklenburg Schools.
Heater has worked on transformational projects such as the Charlotte 2020 Vision Plan, which serves as the blueprint for development for Center City, Envision Charlotte, Uptown's sustainability initiative, and South End's Good To Great vision plan.  She has built strong relationships with municipal partners at all levels and elected officials while actively engaging in the communities she has served.
Originally from Kent, Ohio, she has resided in the University area for seventeen years with her husband and their two children.  Both of their children have ties to UNC Charlotte.  Their daughter Lyndsay is an UNC Charlotte Bioinformatics grad student alum and their son Nicholaus is an undergraduate student.
Tobe Holmes
Planning and Development Director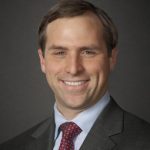 Tobe Holmes is the planning and development director University City Partners. He is responsible for executing all planning and development initiatives for University City Partners. He works with the City, County and State governments as well as developers, institutions, businesses, residents, and special interest groups to fulfill
the vision of University City. Holmes is an integral part of all land use and transportation decisions, helps guide and influence private and public investments, and advocates for neighborhood, business and destination infrastructure and amenities.
Holmes has a master's degree in Regional Planning from Clemson University. He recently held the position of Director of Historic South End for Charlotte Center City Partners where he managed economic, community and transportation development for Charlotte's first transit oriented district.
Janelle Goodrich
Project Manager
Janelle Goodrich is project manager for University City Partners. She oversees UCP's communications including its twice-monthly e-newsletters, website content, social media, marketing materials, events planning and production of numerous reports including the semi-annual Economic Development Report, a key selling and recruitment tool for the University City business district.
A Midwest native, Goodrich graduated from Virginia Commonwealth University with a BA in Interior Design and came to Charlotte from Albany, New York in 1995. She joined University City Partners in 2009.
Goodrich lives in University City, as well. In her spare time she likes to run and drink wine. Favorite haunts? Mallard Creek Greenway at dawn and the Wine Vault patio at dusk, of course!