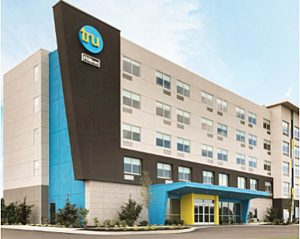 The Charlotte Observer reports that a Tru by Hilton hotel is planned for University Pointe Boulevard at I-85, based on permits filed recently with the city.
The location is beside the Holiday Inn Express and Suites at 6020 University Pointe Blvd. Both properties are part of the Belgate Shopping Center. IKEA's Charlotte store is located nearby.
About Tru by Hilton
Tru by Hilton targets younger travelers with rooms under $100 per night plus amenities such as digital check-in; a large lobby with areas to work, play games, eat and lounge; and the 24/7 Eat. & Sip. Market, where guests can buy gourmet snacks, drinks, wine and beer.
The hotel fitness center features "the latest fitness trends including barre, resistance bands, free weights, cardio and flexibility gear, plus workout ideas offered on fitness center tablets," says the Tru by Hilton website.
Charlotte's first Tru by Hilton is in the Arsley mixed-use community near I-485 and South Tryon Street. Hilton opened its 100th Tru in November and has 30 more opening soon, including one near Charlotte Douglas International Airport.
University City's growing hotel hub
Tru by Hilton will soon join several  hotels that are under construction or have opened recently in University City near I-85 and on North Tryon Street.
Read the Observer article about Tru by Hilton.
Read about University City's growing hotel hub.
Visit the Tru by Hilton website.