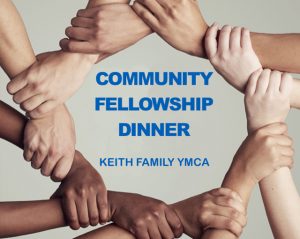 The Keith Family YMCA will host its free Community Fellowship Dinner on Thursday, Dec. 5, from 6 to 8 pm.
The community dinner is open to all, especially to our neighbors who could greatly benefit from a hot meal, resources and fellowship.
The dinner will take place at the Keith Family YMCA, 8100 Old Mallard Creek Church Road. Directions
Last year about 600 people came to the dinner. Event details
A free dinner and much more
Community dinner guests will receive a free hot meal and a bag of non-perishable food for the next week.
Guests also will have the opportunity to learn about long-term benefits from free community resources thanks to the following partners: Hope Street Food Pantry, Urban League of Central Carolinas, Inc., PACE of the Southern Piedmont, NC Works, SharonView Credit Union, Atrium Health and many more.
The YMCA will also share information about opportunities for affordable access to YMCA programs and services.
How the community can help
The Keith Family YMCA is collecting perishable food for this event and welcomes food donations from area businesses and groups, as well.
The YMCA also welcomes financial donations to make its programs affordable or free for community members who might not otherwise be able to take part.
Learn more
Learn more about the Keith Family YMCA and its many programs for the University City Community at the YMCA website.
For details on making donations, contact Meneika Helms at Meneika.Helms@YMCACharlotte.org or 704-716-6118.