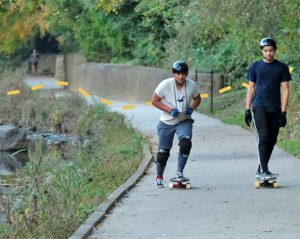 Mecklenburg County is crafting a new 10-year master plan for our parks and recreation programs and seeks our help.
Your ideas will help our county board set goals and provide money  for new and improved parks, facilities and programs. County parks planners have created a program entitled the Meck Playbook to gather community ideas and craft the master plan.
You can get involved, starting now!
How you can help:
Attend one of the Adventure Fest planning events on Nov. 21 (free food and games for all ages as everyone explores the park and rec system together). Details below.
Take a brief online survey on how you use our parks and what you want in the future – Click here to start.
Learn much more about the 18-month planning process at meckplaybook.com.
Sign up for email updates throughout the planning process.
Help kick off the Meck Playbook at these Adventure Fests
Join parks staff for an entertaining time of exploring our park and recreation system via games for all ages, plus free food! Your ideas will help shape our future master plan. Locations and times:
Revolution Park Sports Academy
Time: Nov. 21 from noon to 1:30 pm
Address: 1225 Remount Rd, Charlotte, NC 28208 Directions
Hornet's Nest Park Williamson Pavilion
Time: Nov. 21 from 5:30 to 7:30 pm
Address: 6301 Beatties Ford Rd, Charlotte, NC 28216 Directions
About the Meck Playbook
Caring for our park system and planning for the future takes all of us. Mecklenburg County Park and Recreation Department is writing a new Master Plan, and we need your help developing a roadmap for the future.
The plan will establish community goals, policies, standards, and recommendations for Mecklenburg County's recreation facilities, greenways, nature preserves, recreational programming, and land acquisition strategies for the next ten years.