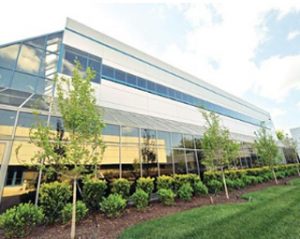 Innovation Park, the largest office complex in University Research Park, has new owners with ambitious plans that include more offices, housing, shopping and more. Partners Group and Accesso Partners recently purchased the sprawling former IBM manufacturing facility and 200 acres of property for $270 million.
The new owners are developing plans that could nearly double the amount of office space, plus add up to 1,000 apartments, retails pace and a hotel, the Charlotte Observer and Charlotte Business Journal report.
The facility has already undergone tremendous growth since the previous owner, BECO Management, purchased the complex for $41.2 million in 2010, at the height of the great recession.
Several thousand people now work at Innovation Park. Major tenants include Allstate, Wells Fargo and AXA.
Neighboring office/warehouse also has sold for office redevelopment
A nearby office/warehouse that IBM built in 1982 also has a new owner with plans for major redevelopment. Shorenstein Properties has bought a 490,000 SF office/warehouse and 51 acre campus at 6800 Solectron Drive, directly across IBM Drive from Innovation Park.
In a news release about the sale, the new owner said it "intends to extensively redevelop the property into a high-quality Class-A office project with outdoor amenity space, increased parking capacity, and enhanced access to surrounding roadways."
Read more about the 6800 Solectron Drive sale.