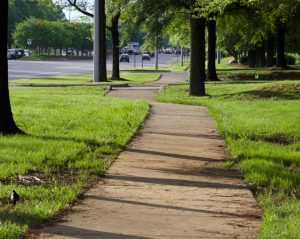 First impressions matter, right? That's why University City Partners recently began paying for weekly litter patrols along our highways.
"There's a huge difference, and I notice it everywhere," says Tobe Holmes with UCP.
Other groups also are tackling litter, too!
The Mallard Creek Initiative hopes you will join them this Saturday, April 27, for a Cleanup Day.
The following weekend, Scout Troop 13 will be scouring Clark's Creek Greenway and nearby trails in University Research Park for old tires, litter and other cast-offs.
About the UCP's litter cleanup
University City Partners began paying a contractor in March to clean up litter along North Tryon Street, W.T. Harris Boulevard parts of other major roadways within University City's Municipal Service District.
The state of North Carolina is responsible for the litter cleanup, but the state cleanup schedule has not kept up with the volume of trash.
The contractor, Phoenix Landscape Management, is also working with property owners along these highways to keep their properties clean and mowed.
Mallard Creek Initiative Cleanup Day on April 27
This community group is concerned about the amount of trash on the roads, says one of its leaders, University City resident and Realtor Robin Faison.
"We want to see a change in behavior from the citizens," she says, and the group invites us to help them pick up trash this Saturday, April 27, from 9:30 am to noon.
The group will gather at 9:30 in front of Nona's Sweets, in the Worthington shopping center at W.T. Harris Boulevard and Technology Drive. Directions
For more details, contact Faison at robin.faison@gmail.com.
Troop 13 Clark's Creek Greenway cleanup
May 4 is Scouts Trash the Trash Day and all the Scouting programs at University City United Methodist Church (Pack 13, Troop 13 and Crew 13) will participate.
The Scouts have chosen the Clark's Creek Greenway in University Research Park as its clean-up area, says David McKenzie, a Troop 13 leader.
The Scouts and leaders will spend the morning scouring the creek and nearby trails for trash. If you are out for a greenway walk,, be sure to cheer them on.
The Troop welcomes new members and volunteers. Learn more at the Troop 13 website.
Cleaner streets help "sell" University City
Holmes says that UCP has received positive feedback on the litter-cleanup program.
The biggest benefit of cleaner streets will likely come from the improved first impressions of people considering moving their families or businesses to University City, he added.
"I relate this work to preparing for a job interview – but with investors, residents, visitors and others who drive through University City," Holmes said.
"You must look the part so that people can see what you have to offer and not focus on an unkept appearance.
"We want to make a great impression. We want to make sure people recognize our community for what it is: a place that is proud of its diversity, teaming potential and one of the city's most important economic engines, UNC Charlotte."