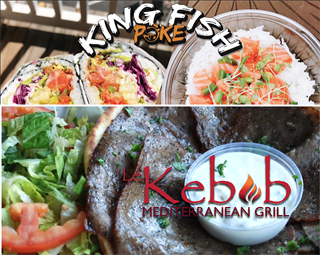 Looking for new dining destinations? Our growing global restaurant scene has highly ranked choices and several new additions.
No. 1 rankings
King Fish Poke and Le Kabab Grill both scored No. 1 rankings this fall from local media. Coincidentally, the two restaurants are neighbors at 350 McCullough Drive in the McCullough Commons center at North Tryon Street and East W.T. Harris Blvd.
WCNC says that King Fish Poke is No. 1 among "Charlotte's 4 favorite spots to find affordable Japanese eats." Another University City restaurant, Hanaya Garden, is No. 4. MORE
LeKebab Grill came in tops on Trip Advisor's list of Middle Eastern Restaurants. Le Kabab also received 4.5 stars on Charlottesgotalot.com.
Favorites for football fans
Not a Panthers fan? You'll find plenty of Chicago Bears buddies at the Wild Wing Café – University and the Dallas Cowboys crazies at the Mallard Creek Hickory Tavern, says charlottefive.com in its new list of "best spots to watch NFL games in Charlotte, no matter which team you support."
New places to try
These six new restaurants offer authentic flavors from Turkey, Mexico, the Mediterranean, Carolinas Low Country and 1950s Charlotte!
Leo's 49 Deli & Bar – 7801 University City Blvd. A taste of Charlotte circa 1950 has been reborn in University City, at Leo's 49 Deli & Bar.  MORE
Mi Pueblo Mexican Grill – Mi Pueblo offers much more than the classic Mexican fare, thanks to Jesus and Maria Ruiz. 7003 University City Blvd. near IKEA. MORE
Peno Mediterranean Grill – Peno is new to University City and Charlotte but already a hit in its hometown of Wilmington. In The Arbors at 2115 E. Arbors Dr. MORE
Que Onda Tacos + Tequila – This is the local chain's fourth location (including one in Highland Creek). "Que Onda" means, loosely, "What's up?" says owner Manuel Flores, who also owns Three Amigos in Huntersville. The name reflects the playful atmosphere Flores tries to provide at Que Onda. Read more in this Observer article. 9601 N. Tryon St. MORE
Seafood Connection – Most new restaurants struggle to bring in a crowd and establish their reputation. Not so with Seafood Connection. 630 University City Blvd. near McCullough Drive and West W.T. Harris Blvd. MORE
Wrapway Mediterranean wraps and more – Two techies from Turkey came to America to pursue their careers, met and discovered they shared a love their native food. Their restaurant is getting great reviews on Yelp. Learn more in this article by The Observer. 10221 University City Blvd. at Pavilion Boulevard. MORE