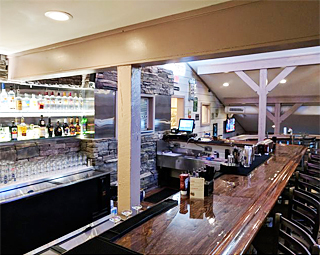 A taste of Charlotte circa 1950 has been reborn in University City, with the opening earlier this year of Leo's 49 Deli & Bar at 7801 University City Blvd.
Owner Angelo Spero has recreated and updated the foods that people enjoyed for decades at the original Leo's Deli on Elizabeth Avenue near uptown.
And Spero definitely knows the Leo's Deli menu. He owned the old deli for more than 20 years.
Dishes spanning the decades
The new Leo's offers many of the classic deli sandwiches and dishes – like corned beef on rye; a Hebrew National hot dog served with chili, cheese, onions, slaw and mustard; and New York cheesecake!
Diners will also find plenty of contemporary fare, too, like loaded potato skins, sliders and quesadillas.
Thirsty? The full bar will take care of that.
A bit of University City dining history, too
The location for the new restaurant has an historical twist of its own. The building was the longtime home of the Sandwich Construction Co.
There was a time in the late 1980s through mid-1990s when the Sandwich Construction Co. restaurant was THE place to eat and hang out with NASCAR teams.
Yelp readers rate Leo's
Leo's 49 Deli and Bar scores Yelp rating of 4.5 by 17 reviewers.
"Excellent service and food. So many choices!" wrote Donna on Oct. 10.
"A great find! I ordered the fried pickles and medium wings, and both were delicious," wrote Hillary on Aug. 24.
"A lot of people don't know this place exists. That's a shame – because it's great. Not only is it one of the few non-chain restaurants in the University area, but also it's legitimately a great place to eat," Anna wrote on Oct. 6.
About Leo's 49 Deli & Bar
7801 University City Blvd. Directions
980-498-0102
Open daily. Call for hours