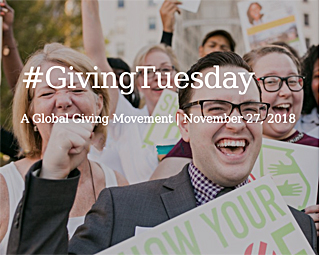 Charlotte's biggest celebration of philanthropy is here!
Join thousands of your neighbors on #GivingTuesday CLT – Nov. 27– in helping hundreds of local nonprofit groups create a better Charlotte region. #GivingTuesdayCLT has generated more than $20 million in value since 2014.
Here's how to make 2018 the best year yet!
What is #GivingTuesdayCLT?
Presented by Wells Fargo and powered by SHARE Charlotte, #GivingTuesdayCLT is Charlotte's local response to the global #GivingTuesday movement.
#GivingTuesdayCLT is an unprecedented collaboration of hundreds of Charlotte nonprofits, businesses, community organizations and individuals coming together to support the community they live in and love.
#GivingTuesdayCLT has influenced nearly $20M in value for local nonprofits and inspired more than 11,000 new donors since 2014.
How to make your donation
Go to GivingTuesdayCLT.org through Nov. 27 to give online to your favorite nonprofit. If your nonprofit is not listed, go directly to its website and give. It all counts for good!

Share your giving story – and win to $10,000 for your chosen nonprofit!
What inspires you to give back? Is there a moment or event that changed your understanding of generosity? Who is the most generous person you know and how has that person influenced you?
GivingTuesday, the global movement that inspired Charlotte's local event, invites you to share your own story of generosity or the inspiring story of others. The top entries can earn thousands of dollars for the contributor's chosen nonprofit.
See inspiring stories and submit your own here
Click here to learn more about the contest, to view stories submitted by others worldwide, and to submit your own essay or video.