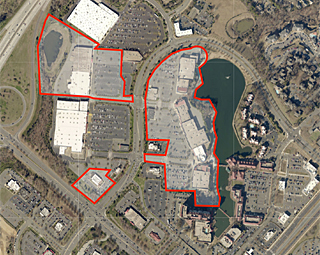 A Texas-based developer and asset manager has purchased a large part of University Place along JW Clay Boulevard and the lake, reports The Charlotte Business Journal.
The buyer, EB Arrow, focuses on renovating and redeveloping older commercial centers located in prime locations.
"EB Arrow found their bread and butter at this site, an aging power center supremely located at the center of Charlotte's second largest employment center and adjacent home of UNC Charlotte with excellent road and transit access," said University City Partners Planning Director Tobe Holmes, who met with EB Arrow staff prior to the purchase.
The University Place purchase involves 36 acres and buildings totaling 294,000 square feet, mostly along the west side of the lake and also including the building that houses Guitar Center.
EB Arrow paid $18.2 million for the property, according to tax records.
'Prime spot for redevelopment'
"The University Place site is a prime spot for redevelopment with tremendous infrastructure and amenities including light rail, interstate accessibility, a 15-acre lake, convention hotel and access to greenways. … University Place I & II represents a rare opportunity to shape a large-scale redevelopment in a mature environment," said Mike Burkard, senior vice president at CBRE Charlotte, in a prepared statement.
Burkard and Steve Shields at CBRE represented the seller, Aegon USA Realty Advisors, in the transaction.
Ground-breaking center at regional crossroads
University Place, a ground-breaking mixed-use center when it was launched in the early 1980s, also includes the Lakefront Shoppes retail center on the east side of the lake, The Hilton Charlotte University Place, One University Place offices, Sam's Club, a retail center that formerly housed Walmart, the Lakeshore Village condominium community and several small retail buildings fronting North Tryon Street and West W.T. Harris Boulevard.
Since its inception, University Place has benefited from its location at a prime regional crossroads that today includes the LYNX light-rail line; the state's busiest intersection at North Tryon Street and Harris Boulevard; I-85; and I-485. The city will start work in about two years on a new bridge over I-85 linking University Place directly to University Research Park.
University City Partners spearheaded redevelopment plan
The coming of the LYNX light-rail line has sparked intense new interest in University Place and the entire North Tryon Street corridor in University City.
To capitalize on that interest, University City Partners and several major property owners at University Place and nearby created a plan to redevelop the area into a transit-oriented urban center.
The resulting University City Town Center Plan lays out steps need to create "a dynamic mixed-use pedestrian-oriented community that capitalizes on surrounding assets," the plan summary states. View the plan summary
Holmes, who helped draft the new plan, said that he has reviewed EB Arrow's redevelopment projects elsewhere, such as The Paseo Colorado in Pasadena, Ca., The Hill in Dallas, and the light-rail connected Lloyd Center in Portland.
"While no two projects are alike, their basic formula is exactly what this site needs – more residents and office workers helping to create an 18-hour a day environment and a strong center for University City," Holmes said.
Additional information