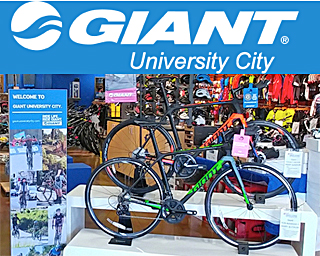 The University City bike shop formerly known as Bike Line has a new name, a new line of bikes and a fresh look. What won't change, says founder and owner Shane Hockensmith, is the skilled staff focused on customer service, quality repairs and cycling advocacy.
Shane invites the community to the Grand Reopening of Giant University City on May 4-5.
Today (May 4) and Saturday, Giant University City, located next to Toby Creek Greenway and UNC Charlotte, will offer a bike repair clinic for women, a Saturday morning greenway ride, mountain-bike exhibitions by "Trail Boss" Jeff Lenosky and, of course, Grand Reopening special prices on all bikes and accessories.
First up is tonight's "Liv Women's Basic Bike Maintenance Clinic," 6:30-8:30 pm at the shop. Leading the workshop will be Liv Cycling ambassador Jen Audia. Details
Jen will also lead Saturday morning's no-drop Greenway Ride, starting at 9 am. Details
20-year journey from Bike Line to Giant University City
Hockensmith launched Bike Line of Charlotte 20 years ago in the row of stores and offices directly behind the shop's current location in Towne Center Plaza. A decade ago, Hockensmith relocated to the much larger current location between Rite Aid and Life Time Fitness.
This latest transformation brings the world's largest bike manufacturer to University City. The "Giant" in Giant University City is Giant Bicycles.
While most bike companies outsource their production, Giant makes both its own bicycles and the materials those bicycles require.
What does that mean for consumers? "Simply put, lower prices and better bikes for everyone," Hockensmith says.
Bringing in a completely new line of bikes gave Hockensmith the opportunity to make over the retail store, as well.
"New paint, new graphics, a beautifully redesigned shop showcasing some of the nicest bikes in the industry," Hockensmith says.
And "Giant University City" on signs throughout the store and, as of Thursday, above the front door.
Longtime advocate for cycling in University City
That new name made its first public appearance last weekend, when Giant University City put up its new store tent at Keith Family YMCA and ran a bike safety rodeo at the Y's Healthy Kids Day.
Hockensmith and his crew, led by Mark Yorio, have promoted safe cycling for many years through events, community bike rides, bike-repair classes and lobbying city officials for road improvements that benefit cyclists.
Hockensmith and Chris Elkins, owner of Run For Your Life – University, pioneered running and biking events in University Research Park through their University City Duathlons. Their efforts have led to the nine-event Healthy UCity Race Series, sponsored by University City Partners and Carolinas HealthCare System.
Grand ReOpening event schedule and details
Friday, May 4
Liv Women's Basic Maintenance Clinic – 6:30-8:30 pm at Giant University City. Free. Join Liv Cycling and Giant University City for a women's specific basic bike maintenance clinic focusing on getting your bike ready for the new season.
Saturday May 5
Toby and Mallard Creek Greenway Ride – 9-10:30 am from Giant University City. Free. Join Jen Audia, Liv Marketing Manager, and Giant University City for this very relaxing, no drop, 15 mile ride along the beautiful Toby Creek and Mallard Creek Greenways in University City.
2 Bike Exhibitions with Trail Boss Jeff Lenosky – 11 am and 2:30 pm at Giant University City. Giant Bicycles Ambassador and Pro Freeride & Trials Mountain Bicycle Rider Jeff Lenosky is making a stop in Charlotte for Giant University City's Grand Reopening. He will have two shows, 11 am and 2:30 pm.
Giant University City store details