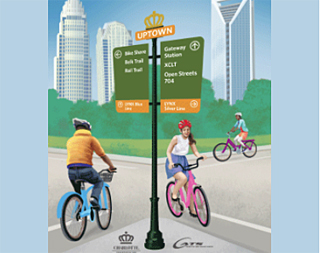 The Charlotte Area Transit System (CATS) invites you to ride transit with your bike.
This makes traveling by bike more practical since long distances, unexpected storms and major highways are no longer obstacles.
Combining bicycles with public transit provides flexibility at both ends of your trip. And your bike rides free!
Taking Your Bike on the LYNX Train
Bikes are allowed on the LYNX trains at anytime day or night. Each train has four interior bike racks. Cyclists may also stand with their bikes in the low floor area of the train.
Be careful that your bike does not interfere with other passengers or block the doorways.
Taking Your Bike on the Bus
All CATS buses have bicycle racks. Each rack is located at the front of the bus and accommodates up to two bicycles. The racks are convenient, easy to use and can mount a bicycle in only a few seconds. Click here for a demo video.
Bicycle Parking at Transit
Transit stations offer bicycle racks or lockers for cyclists who do not wish to take their bicycles with them about the LYNX.
For More Information: 704-336-RIDE or RIDETRANSIT.org.