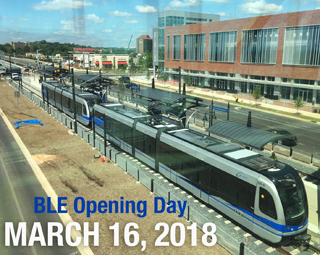 Are you excited yet?
In just 30 days, we can finally board the long-awaited LYNX light-rail trains to Center City. To celebrate this transformative event, University City Partners and our friends are throwing a party!
Join us for free kids' rides on the train, free coffee and donuts with our police, St. Paddy's Day shopping specials and much more! Here are the latest details, with more information coming as we have it. More events also are in the works.
March 16
UCity Station Job Fair at Camino Center
11 am-2 pm at the Camino Community Center, 133 Stetson Drive near the University City Boulevard station and parking deck.
The Camino Center will host a citywide job fair focusing on opportunities available near our new light-rail stations.
The center is on the side street next to the Waffle House restaurant.
March 17
Kids Ride the Train event (to St. Patrick's Day Parade)
9-11 am at the JW Clay Boulevard Transit Station. Bring the youngsters for an entertaining first train ride with Norm the Niner, the Chick-fil-A cow and Charlotte Motor Speedway's Lug Nut.
Children under age 12 can ride for free.
We'll have Light Rail buttons/stickers, free train whistles and healthy snacks for the kids from Carolinas HealthCare System, face-painting, Pelicans snow cones and more goodies from Chick-fil-A University Place. Panera Bread will have free coffee for the adults.
St. Patrick's Day specials at nearby shopping centers
Many University City stores within walking distance of our transit stations along North Tryon Street will have special promotions. Look for free T-shirts at the University City Boulevard station!
March 19
CMPD Coffee and Donut Giveaway with our Cops
7-8:30 am at the University City Boulevard Transit Station. Park for free in the LYNX parking deck, then share time, coffee and donuts with officers from the University City Division station.
March 20
UCity Small Business Networking event
7:30-9 am at the Camino Community Center,, 133 Stetson Drive near the University City Boulevard station and parking deck. The event will include BLE/transit info, news about what's coming to UCity along the rail line, small-business resources and biz-to-biz introductions. University City Partners will provide coffee and breakfast, plus UCity mobility maps.
Get more updates
Get all of the LYNX Launch event news via our Facebook and Twitter posts.
Calendar of events
Double-click on graphic to enlarge