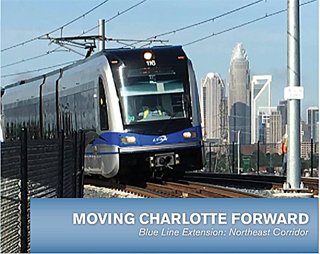 Get the latest news on our LYNX Blue Line Extension at three upcoming information sessions, including one from 6-8 pm Oct. 12 at UNC Charlotte's Cone University Center. At each session, project staff will discuss the complex testing program, opening date for public service (now projected for March 2018) and other matters, plus give answers to your questions.
Public meetings will be open-house forum style. A presentation will be given 15 minutes after start time. Also, meetings will be streamed on Facebook.
Public meeting schedule
Tuesday, October 10, 2017  – 6:00 p.m. to 8:00 p.m. at Sugaw Creek Church, 101 W. Sugar Creek Road, Charlotte, NC 28213
Wednesday, October 11, 2017 – 11:00 a.m. to 1 p.m. at Charlotte Main Library, 300 E. 7th Street Charlotte, NC 28202 (Drop-in session only).
Thursday, October 12, 2017 – 6:00 p.m. to 8:00 p.m. at UNC Charlotte's Cone University Center, Lucas Room, 9025 University Road, Charlotte, NC 28262
Learn more and stay in touch
The Blue Line Extension, currently nearing completion, is an extension of the successful LYNX Blue Line light rail service. The new 9.3-mile alignment extends from 7th Street Station in Center City through the NoDa (North Davidson) and University City, terminating on the UNC Charlotte campus.
Questions?
Contact the BLE project team at: telltransit@charlottenc.gov​​
Main project website 
Get project updates via Facebook and Twitter @BLEupdates
See the latest street closings and detours via interactive map