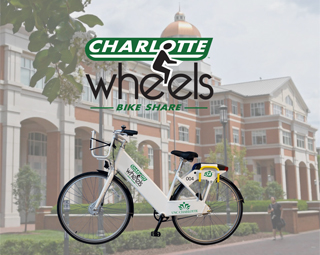 We may still love our cars, but University City is getting more alternatives for travel. Charlotte Area Transit has launched a free app to help us catch the bus or LYNX. UNC Charlotte just introduced its Charlotte Wheels bike-share program. And the state dedicated new locomotives last week to help us ride our new rails to Raleigh!
Charlotte Wheels bike sharing starts on campus
The university recently had a soft launch for its first low-cost campus bike-share program. Fifty bikes available for rent are stationed around campus at hubs near major destinations and transit stops. The number will double beginning Aug. 23, when the program moves into full gear (pun definitely intended!).
Charlotte Wheels is a partnership with Gotcha Bikes, a nationwide bike-sharing program.  The program's specially designed GPS-enabled Smart bikes use the SoBi platform (socialbicycles.com).
The bicycles are designed to be highly durable, with lightweight frames, Kevlar seats, multiple gears to help riders tackle the campus's steep hills, belt drives and puncture-resistant tires.
People wanting to use a Charlotte Wheels bike will find and reserve available bikes nearby via a smart-phone app or the Charlotte Wheels website.
Once you reserve your ride, you receive a 4-digit PIN that you use to unlock the bike. When you're through, just lock your bike at any of the hub locations.
The program offers two pricing options:
Point-to-Point – Where riders get limited free time and longer riding time for an hourly fee.
Lifestyle – Where riders pay for an annual membership that provides more hours of riding time throughout the year.
Bikes will be maintained by Bike Line of Charlotte, a well-known bike shop located across University City Boulevard from campus in the Harris-Teeter shopping center.
Click here for more details about Charlotte Wheels.
NC dedicates 2 locomotives to Charlotte-Raleigh rail service
You may not know it, but University City has a piece of the super-busy NC Railroad corridor between Charlotte and Raleigh. That corridor is about to get busier, faster and far more important to rail passenger service with the completion this summer of a $500 million overhaul and expansion to dual tracks.
On Aug. 1, the state dedicated two totally refurbished locomotives to help handle the expected surge in ridership: No. 1984 City of Kannapolis and No. 1871 Town of Cary.
As the Charlotte Observer reported last year, the federally funded track improvements will make the trips between Raleigh and Charlotte faster, safer and more frequent – with five round-trips each day. The ride now takes about 3 hours and 10 minutes.
Installation of dual tracks along the entire route also means that passenger trains will arrive on time, rather than face delays to let freight trains pass as they were required to do in the past.
The route serves about 450,000 travelers each year, and with these important improvements, the state expects that number to grow.
Ride the rails via this video – "Ride" from Raleigh to Charlotte in 49 seconds via this time-lapse video provided by NC Department of Transportation. The video was shot in 2016 before the track project was completed. You will see several of the improvement projects along the way.
CATS App for LYNX tickets
People wanting to buy a LYNX ticket can now do so anytime via the new RideCATS mobile app. Along with that service, riders can see the next 3 times a bus or train will arrive at their stop.
The app will also save a rider's most frequented stops and routes for quick access the next time they go to catch the bus or train.
Learn more including a video about the app and how to use it. MORE