By Shima Elbashir: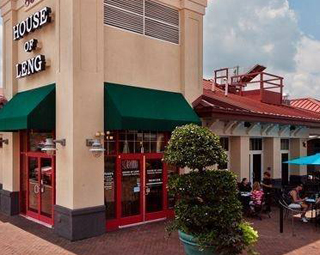 For our most recent Tasty Tuesday, I and other interns at University City Partners visited the House Of Leng, a Chinese restaurant at Lakefront Shoppes at University Place. The restaurant also has a location at Cochran Commons shopping center on Mallard Creek Church Road.
The staff at the University Place location was very welcoming and attentive. They had the table pre-set for us, and once we were seated the waitress provided us with glasses of water. Their service throughout our lunch was incredibly fast and continuous.
Great variety
The menu had a wide variety of choices. It even had a vegetarian section, which is something that many restaurants are trying to incorporate nowadays.
The lunch menu includes several combination plates served daily until 3 pm. Prices start at $6.25 for plates such as Chicken with Mixed Vegetables served with fried or steamed rice and egg roll or spring roll.
Our food was freshly made and authentic. (See how the food is cooked on House Of Leng' short website video!)
We felt that House Of Leng's prices were very fair and compatible with the generous amount of food presented.
Get the House Of Leng App!
House Of Leng has its own dining apple for both Android and iPhones. The app lets you see the menu, photos, food and drink specials and other discounts. You also become part of the House of Leng Loyalty Rewards Program. Learn more
House of Leng
8933 JM Keynes Drive at Lakefront Shoppes at University Place
980-207-3518
Hours: 11 am-10 pm weekdays; noon-10 pm Saturdays and Sundays