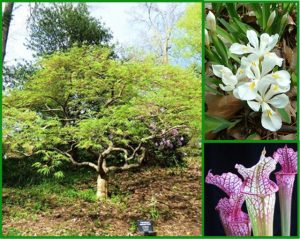 UNC Charlotte's Botanical Gardens have always been a beautiful place to visit. This spring, they'll also be musical, tasty, fragrant and educational!
Five events between now and late April will give you a new appreciation for this 10-acre green oasis in the heart of University City. First up: The Winter Garden Guided Tour, noon-2 pm Feb. 26.
About the Botanical Gardens
The Botanical Gardens got their start in the early days of UNC Charlotte and now include the McMillan Greenhouse and two gardens covering several acres along Mary Alexander Road – The Susie Harwood Garden and the Van Landingham Glen.
The Greenhouse is open daily year-round and features a fascinating collection of carnivorous and bog plants, desert succulents, and a Dinosaur Garden filled with ferns and living fossils.
The Van Landingham Glen is a woodland garden with a decidedly Appalachian flavor, thanks to its many hemlocks, rhododendrons and other plants from the Southern Appalachian Mountains.
The Susie Harwood Garden features native and non-native plants that grow well within the Carolina Piedmont to inspire your own garden at home.
The outdoor gardens are open every day during daylight hours. The Greenhouse is open 9 am-4 pm Mondays-Saturdays and 1-4 pm Sundays. Admission is always free. Explore the gardens online at gardens.uncc.edu.
Directions: The McMillan Greenhouse is 9090 Craver Road at Mary Alexander Road. The gardens are across Mary Alexander Road. Entrances are well marked. Parking is available next to the greenhouse and in the visitor parking area of the East Deck, also on Mary Alexander Road. Map and more.
Upcoming events: Music, learning, donuts and beautiful gardens!
Winter Garden Guided Tour,  noon-2 pm Feb. 26 – Take an informative stroll through the delights of the Susie Harwood Garden and learn about the beauty of a Southern garden in winter, from bright berries to magically fragrant flowers. Tours start at 1 and 2 p.m. $5 per person. Preregister online through Feb. 24, or sign up on Feb. 26.
Music, Green Gardens, and Donuts! 11 am- noon March 17 – Enjoy St. Patrick's Day at the Botanical Gardens with free music and refreshments.  The UNC Charlotte Brass Quintet will perform 11-11:30 am, and the UNC Charlotte Saxophone Quartet will perform from 11:30-noon at the Susie Harwood Garden Gazebo.  Coffee, hot chocolate and assorted donuts graciously donated by America's favorite,  Dunkin' Donuts, University City Boulevard –while supplies last!  This event is free and open to everyone!  For more information, email Jeff Gillman at jgillman@uncc.edu.
Wild for Wildflowers family event 10 am-noon April 1 –  It's April 1st, and the woodlands are waking up and native wildflowers are blooming!  Join the gardens staff for a journey of discovery through the Van Landingham Glen, where you will explore the secret lives of six native wildflowers. Get creative with crafts and games – all about wildflowers and woodlands.  This is event and activities are suitable for ages 5-11, limited to 75 children. Purchase tickets online. Tickets may also be purchased at the door on April 1 until 11 am, if the event is not sold out. Cost: $6 per child (accompanying adult, free). All children must have adult present.
Spring Plant Sale, 9 am-3 pm April 14-15 – Shop from an exceptional array of plants at our largest sale of the year! You'll find a wide selection of native plants and deciduous azaleas along with special selections of wildflowers, perennials, trees and shrubs, carnivorous plants, colorful annuals, and tropicals for the landscape. This is a great opportunity to ask lots of questions of the gardens' knowledgeable staff, too! All proceeds support the operations of the gardens and greenhouse. Attendants will be present to direct parking and drive-up for plant pickup. Admission to the McMillan Greenhouse and outdoor Gardens is free!
Botanical Gardens Music in the Gardens, 11 am-noon April 21 – Bring a lunch and friends to the Susie Harwood Garden Gazebo, and enjoy the relaxing sounds of an array of classical music at the Botanical Gardens. This lunchtime concert is arranged and performed by students of the UNC Charlotte Music Department.  For more information, contact Jeff Gillman by email at jgillman@uncc.edu or call 704-687-0721. Free and open to everyone