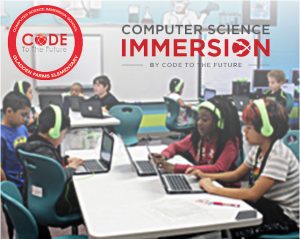 An exciting new K-5 magnet school focused on computer science opens in University City in August, and you can get details 6-8 pm tonight, Feb. 9, at University City YMCA, 8100 Old Mallard Creek Road.
Toyia Matthews, principal of the University City Computer Science Immersion School, will discuss the program and magnet-school lottery process. The first round of applications closes on Feb. 14.
The school will open in August in the former Newell Elementary School building at 8601 Old Concord Road, just west of East W.T. Harris Boulevard. Initial enrollment will be about 550 students.
This will be Charlotte-Mecklenburg Schools' second magnet school offering the Code to the Future computer-science focus as part of its curriculum. Paw Creek Elementary School adopted the program last year.
At tonight's information session, Principal Matthews will explain the new magnet school's program, application process, student transportation and other aspects of the new program, including its use of Code to the Future.
About Code to the Future
The coding program is the result of a Charlotte-Mecklenburg Schools partnership with Code to the Future, an independent education program. The first-year experience at Paw Creek Elementary offers a glimpse of what will take place next fall in University City.
Coding was a logical subject to teach students, said Paw Creek Principal Danielle Belton in a news release by Charlotte-Mecklenburg Schools. "In the next few years, there will be a 1 million-job gap in the computer-science field," she said. "Our students are learning critical thinking, problem solving — skills for the jobs of the future."
The Code to the Future program involves having students develop and write scripts for computer programs, notes the CMS release. Kindergartners begin with such projects as writing code to animate their names, while fifth-graders animate more advanced concepts.
There is much collaboration between different grade levels. Freedom to be creative is paramount. Students are given information to incorporate into their projects but have free rein with what they design and deliver.
Students in the Code to the Future program have dedicated computer science time each week, and computer science also is embedded in lessons throughout the day.
At Paw Creek Elementary, a robotics club also meets weekly after school, where students build Lego robots controlled by computer codes. There are also Epic Build events where students show their projects to their parents and others in CMS and the community.
Code to the Future provides Paw Creek with learning materials and training plus two experts in residence – an instructional coach and implementation manager – to work with students and staff.
Learn more