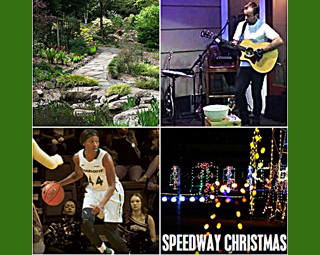 Lots of us have time off and visitors to entertain over the next couple of weeks. But where to go? We recommend staying right here in University City. After all, with so many choices, from quiet walks to free music to a visit with Santa, why go anywhere else?
Here are the details.
Speedway Christmas Village
If you like holiday lights, you can't beat Speedway Christmas Village, with more than 3 million lights along a 3.75-mile road course within Charlotte Motor Speedway. And that's just the start. The speedway has created a village with petting zoo, horse-drawn carriage rides, photo-ops with Santa and a lot more – including Christmas-themed movies on the unbelievable 16,000-square-foot Speedway TV starting at 6:30 pm Thursday-Sunday nights.
Speedway Christmas Village is open 6-10 pm nightly through Dec. 31 except closed on Christmas Day. Charlotte Motor Speedway is at 5555 Concord Parkway South (US 29). Details and tickets
Catch a 49er basketball game
School's out after commencement exercises this Saturday, Dec. 17, but 49er basketball teams will have three home games to keep you entertained between now and Jan. 2.
Women vs Davidson – 6 pm Dec. 21 at UNC Charlotte
Men vs N. Texas – noon Dec. 31 at Halton Arena
Men vs. Rice – 7 pm Jan. 2 at Halton Arena
Good wine, soft music
The Wine Vault at University Place is a great place for holiday gifts as well as a relaxing wine bar with live music 7-11 pm every Friday and Saturday including Christmas Eve and New Year's Eve. There's a great selection of wines and beers by the glass or bottle, and the musicians are top-notch.
Details: 704-548-9463 and headwino.com.
Escape to nature
This season is often one of reflection or escape, depending on how your day is going. Here are some opportunities:
1. Bike and hike at UNC Charlotte – This 1,000-acre campus includes 10 acres of native flora in Charlotte's only botanical garden, Toby Creek Greenway, miles of sidewalks and paths and, after commencement ceremonies on Saturday, Dec. 17, virtually no students and very few faculty.
Several campus roads have bike lanes. You also can ride bicycles on all campus sidewalks unless otherwise marked (watch out for stairs!).
The university is officially closed Dec. 23-Jan. 2, meaning that visitors can park for free in any surface lot and parking deck. Details on UNC Charlotte botanical garden, Toby Creek Greenway and the UNC Charlotte campus map
2. Hit the greenways – Toby Creek Greenway is part of a growing network of greenways in University City totaling about 12 miles in length. Just east of campus, Toby meets Mallard Creek Greenway. Turn right to proceed a half mile to the Kirk Farm Fields and an unusual boardwalk into a wetland that is prized for its birdwatching opportunities.
Turn left, and travel for several miles along Mallard Creek and Clark's Creek Greenways. Most of the path is paved except for about a mile through University Research Park. You might want to pack some food and water.
Details on Toby Creek Greenway, Mallard Creek and Clark's Creek Greenways and on birding at Kirk Farm Fields
3. Winter hikes and activities at Reedy Creek Nature Preserve – Reedy Creek Nature Center and Preserve at 2900 Rocky River Road is a great place to visit anytime. The preserve and adjoining park total nearly 1000 acres of forest and ponds. Visitors are welcome dawn to dusk daily (park currently closes at 6 pm).
The park nature center, which includes displays, classroom, restrooms and small store, is open 9 am-5 pm Mondays-Saturdays and 1-5 pm Sundays.
Several year-end programs and hikes are planned, including The Almost New Year Walk (Dec. 31) and the First Hike of the Year (Jan. 1). Call the nature center at 980-314-1119 for information and to register.
Wildcraft: Twig Stars – 2-3 pm Dec. 18 for ages 6 and up. Free. Stars are often associated with winter traditions, most likely because the nights are longer and the skies are clearer in the winter. Join park staff to craft stars from sticks. These make wonderful natural decorations!
A Holiday Forest Celebration – 10-11 am Dec. 23, for ages 4 and up. $4 per person. The holiday season is here and what better way to celebrate than discover some of the gifts mother nature gives us. Create a beeswax candle and an ornament using gifts directly from nature, followed by a celebratory hike in the forest!
Almost New Year Walk and Talk – 10-11 am Dec. 31 for ages 10 and up. Free. Jump start your New Year resolutions with a walk through Reedy Creek Nature Preserve. Park staff will talk about the health benefits of spending time in nature as the group walks and burns some energy.
First Hike of the Year – 2-3 pm Jan. 1 for ages 8 and up. Enjoy an invigorating trek through the forest on this first day of the New Year.
Full calendar of events – CLICK here for the full calendar of activities at all of Mecklenburg County's parks.