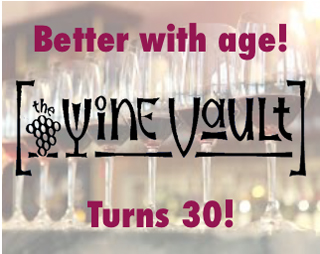 One of University City's great institutions, the Wine Vault, turns 30 this month, and owner Tim Wallace plans not one but three celebrations – a wine tasting this Saturday featuring 30 of the Wine Vault's most popular wines; an Octoberfest on Oct. 22 to showcase the WV's extensive beer offerings, and, on Oct. 14, Tim's real trip down memory lane, "The 30th Anniversary Wine Vault Celebration".
Thousands of memories and even weddings!
Tim is inviting everyone with fond memories of the Wine Vault past and present to spend the night of Oct. 14 sharing, listening, drinking wine and bonding.
Tim hopes to see many of the 50 or so people who have worked for him over the years, and maybe some of the hundred couples who've become engaged here or got married here – including both of the Avett brothers, Scott and Seth, who honed their act playing three-hour shows on the Wine Vault Patio 15 years ago.
"Everyone who is a part of our family is important to me, and we are so lucky that we have had so many people who contributed to our culture," says Tim, who bought the Wine Vault when it was a youthful 15 and built the laid-back wine-and-beer bar experience that draws customers young and old, rich and not so rich.
"Everyone is after the same thing," Tim says. "We don't have any airs. We don't come out being something we are not. We're just people who want to relax, hang out and have a good time.
"Nobody's a stranger, and it doesn't matter if you make a quarter million dollars a year or $30,000."
Help Tim and the Wine Vault celebrate 30 years of the Wine Vault. Here are the upcoming events.
30 Wines for 30 Years! The Wine Vault 30th Anniversary Wine Tasting
4-6 pm Saturday, Oct. 8
Celebrate the Wine Vault's 30th Anniversary with this special wine tasting featuring 30 of the Wine Vault's most popular wines.
"We'll have some really special wines, some really typical wines, and wines that everybody has loved at the Wine Vault for a long time," Tim says, plus many special prices for participants.
The event is co-sponsored by University City Partners. Of course, live music on the patio will start at 7, as it does every week!
Cost: $10 per person. Must be 21.
30th Anniversary Wine Vault Celebration
A full night of celebrating, Friday, Oct. 14
"30 years, 360 months, 1560 weeks, 10680 days. How many numbers…. How many people have you met on our patio who are STILL your dear friends? How many have met your life long partner here? Your partner in crime here?" Tim asks in his website invitation. "Let's try to recount all of them and all the glasses of wine you've ordered, beers you've drunk and bands you've heard! A full night of party and fun.
"I'd love to see all of you and remember everything," Tim says. "You are very important to me and the history of The Wine Vault. Please, please, please take the night off and come see us!"
Oktoberfest at the Wine Vault
2-5 pm Saturday, Oct. 22
Over 100 different beers, live music by Rich Challen and food by Boardwalk Billy's. Get event T-shirts "hand sewn by Tim himself, using the finest thread from Southern France," or so his website promises.
Ticket price includes unlimited beer samples, food, live music and "one awesome T-shirt."
Cost: $25 general admission the day of the event; $20 for tickets bought in advance; $15 for students who buy in advance with UNC Charlotte ID. Must be 21 years old.
For any questions or for more information, call The Wine Vault at 704-548-9463.