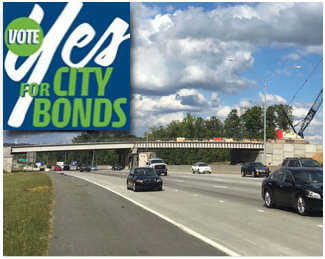 If you need another reason to vote this fall, here's a big one: Three city bond referenda to upgrade streets, neighborhoods, housing and infrastructure.
The bonds will allow needed improvements across Charlotte including big benefits here:
A 26-mile bike-hike path to downtown and beyond.
Sidewalks and bikeways near our transit stations.
A much needed bridge over I-85 linking Research Park offices to the transit line.
City seeks to keep ahead of rapid growth
This year's bond packages are the second of four being put to voters between 2014 and 2020 to provide the roads, services and infrastructure needed for our rapidly expanding city to keep up with growth.
The 2014 bond package included money for several projects across University City, including infrastructure around the Prosperity Village community on I-485, a new bridge over I-85 midway between Harris and University City boulevards, and a future extension of Mallard Creek Church Road south of University City Boulevard.
The 2018 and 2020 bonds will include money for further street, sidewalk and bikeway improvements along the North Tryon Street transit corridor, plus numerous improvements across Charlotte.
What's at stake in this fall's bond packages
This year's bonds include funding for projects that will benefit University City for decades to come. These include:
I-85 North Bridge – The I-85 North Bridge between University Place and University Research Park. Like its twin, the I-85 South Bridge that is nearing completion between the Belgate mixed-use center and Innovation Park in the URP, the I-85 North Bridge will have no interchange with the interstate – focusing instead on moving vehicles, buses, pedestrians and cyclists safely and quickly across I-85. The bridges are strategically located to help future transit commuters reach the North Tryon Street stations and parking decks.
Cross Charlotte Trail – The 2016 bonds include $28 million to begin construction on an ambitious 26-mile cross-county bike and pedestrian trail linking our existing Mallard Creek, Clark's Creek and Toby Creek Greenways to several other greenways all the way through uptown (the Little Sugar Creek Greenway) and south Charlotte to Pineville. The proposed route will link many neighborhoods and attractions including UNC Charlotte, NoDa, uptown, Park Road Park and Pineville. Details
Northeast Corridor Improvements (NECI) – Each bond package includes money totaling more than $100 million over eight years to improve streets, sidewalks and bikeways along roadways leading to our future LYNX light-rail line's transit stations. In University City, this money is funding improvements on West Rocky River Road, McCullough Drive (and its extension to the Grande Promenade shopping center), and JW Clay Boulevard through University Place.
Prosperity Village improvements – Charlotte continues to invest in the growing community along both sides of I-485 near Highland Creek.
The goal is to provide the public investment necessary for walkable, livable new villages where Prosperity Church Road crosses I-485, as spelled out in Prosperity Hucks Area Plan approved by Charlotte City Council in 2015.
Learn much more at voteyesforbonds.com
Visit voteyesforbonds.com and Facebook.com/VoteYesForBonds/ for all of the bond-package details including how you can get involved in supporting the bonds.