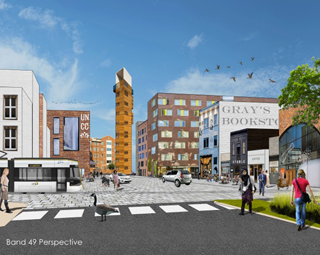 How can we transform University City into College Town? Students in UNC Charlotte's Master of Urban Design Program spent their spring 2016 semester exploring ways to create places near campus where both students and the broader community will want to "hang out." Get details tonight, July 12, at 5:30 pm – at the Levine Museum of the New South.
The students are guests of the museum's monthly Civic By Design Forum, created more than a decade ago to get people talking to each other about civic design issues that are shaping Charlotte's history today.
Under the direction of UNC Charlotte Assistant Professor Ming-Chun Lee of the School of Architecture, students have examined the potential for future urban growth near the main UNC Charlotte campus and ways to shape that growth so that it serves both students and the thousands of people who live and work nearby.
University City Partners and local designers, including members of the Shook Kelly firm, provided support for the students' research.
What you will hear
Tuesday's program will include:
An overview of University City as a testing ground for the potential role of a student-centered economy in sustainable urban development.
Proposals for student/community retail centers that would be the "student place" to "hang out" and socialize.
A discussion on the importance of having centers that also welcome and support the general community.
Urban design strategies needed to create University City's College Town
Among the students' ideas to help achieve their goals:
Increase connectivity around campus and between campus and nearby.
Create Urban areas that bring retail, culture and a higher quality of life to both students and the surrounding community's members.
Can student work help shape University City? Lee says that it's rare for a city to take a student group's ideas and implement them – but there are some examples. For instance, Seattle incorporated several ideas generated by urban-design students at the University of Washington when the city revised its South Lake Union Neighborhood Plan.
Forum details
Time and date: 5:30-6:30 pm today, Tuesday, July 12.
Location: Levine Museum of the New South, 200 E. 7th St. in uptown Charlotte. Directions
Cost: Free
Parking: Free parking is available at the Seventh Street Station parking deck, next to the museum (get your parking ticket validated at the museum). Directions
Learn more: civicbydesign.com