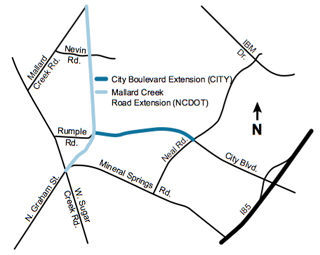 Two related road projects that ran into roadblocks earlier this year are once again moving forward. The state and several utilities have untangled a complex web of cables and power lines that blocked roadwork on the new highway linking Graham Street and Mallard Creek Road.
And Charlotte has found a new contractor to complete its extension of University City Boulevard between the state's project and Neal Road.
Taken together, the two road projects will provide far greater access while easing rush-hour congestion in the Derita area just west of I-85 and University Research Park.
Derita "Bypass"
The state is building a long-awaited "bypass" around the old village center of Derita on West Sugar Creek Road. The new four-lane roadway, much of it already paved, begins at Sugar Creek and Mineral Springs Roads, bends north for a mile or so and then turns east toward its connection to existing two-lane Mallard Creek Road just east of Nevin Road.
The project will also widen Mallard Creek Road to four lanes from Nevin Road to West W.T. Harris Boulevard.
New connection to I-85
Meanwhile, Charlotte has been building an extension of University City Boulevard between Neal Road and the state's future roadway. The extension will provide yet another crucial connection between University Research Park and surrounding neighborhoods to both I-85 and the future LYNX light-rail line on nearby North Tryon Street.
Work on both projects halted late last year. Leslie Bing, project manager for the University City Boulevard Extension, said that performance problems with the original contractor forced the city to remove that contractor last winter. A new contractor has since been hired. The project will be finished by fall 2016, Bing said.
A spokesperson for the NC Department of Transportation told University City Partners in February that construction of Mallard Creek Road realignment project had to be halted while the state and several utilities worked out where their power and communications cables were buried and how to relocate them for the new roadway.
Community meeting drew 150 residents
In late May, city and state representatives met with about 150 residents at a meeting organized by the Derita-Statesville Road Community Organization to hear residents' complaints about explain the issues and their work to get things restarted.
Organization President Sylvia Cannon said that the state representatives told the meeting that relocating the utility lines should be completed by early this summer, and the full Mallard Creek Road realignment project should be finished in late summer 2017.
Learn more
University City Boulevard Extension website
Mallard Creek Road realignment website
Derita-Statesville Road Community Organization Facebook page