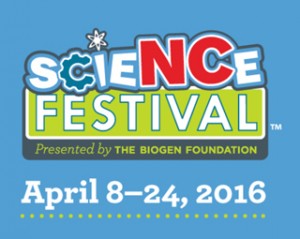 This month's NC Science Festival features hundreds of events statewide to help you "Discover Science in Your Life." Several will take place April 8-24 at UNC Charlotte.
Learn about "Healthy Aging" and "The Marvelous Milky Way." Command LEGO robots. Sample dozens of hands-on activities at the giant Science and Technology Expo. And much more!
Finding science in one's backyard is the point of the 2016 North Carolina Science Festival from April 8-24. The statewide festival presents hundreds of events.
UNC Charlotte is part of the seasonal exuberance. In addition to its traditional Science and Technology Expo, UNC Charlotte is offering four science and technology workshop, three discussions on science and society, a statewide robotics competition with lab tours, and an evening lecture by a prominent visiting astronomer with a late-night star party.
Nearly all activities are free, except for the Lego robotics and hydroponics workshops.
CLICK HERE for complete event listings and details, or call 704-687-5743.
Science and Technology Expo on April 24
The free Science and Technology Expo is for the science-curious of all ages, featuring more scores of hands-on activities in robotics, rocketry, virtual people, live animals, lab experiments, explosive chemistry, exotic plants, fire engines, race cars, boats and drones. There will also be presentations in chemistry, physics, geology, computer science, engineering and biology developed by University personnel and several industry and community organizations.
Noon-4 pm Sunday, April 24, in the Student Union, in the nearby Student Union Mall and in the Halton Arena Mall. Cost: Free. Parking: Visitors can park free throughout campus on April 24. Student Union Deck is recommended.
LEGO Robotics Workshops on April 16, 17
The William States Lee College of Engineering and the College of Computing and Informatics are hosting two full-day LEGO Robotics Workshops. Students in grades 3-12 will use LEGO Mindstorms building kits to learn introductory robotics with expert guidance in small, multi-instructor staffed, age-appropriate classes.
The instruction is designed for children and an accompanying parent and costs $10 per child/parent pair to cover lunch, which is provided.
One-day programs are 9 am-4 pm April 16 or 17, at the EPIC Building. Space is limited. REGISTER
Statewide Robotics Championship Competition on April 9-10
UNC Charlotte will host the first-ever statewide robotics championship on April 9-10. The event will feature the 30 top teams from a series of competitions by high-school robotics teams. Come watch the action!
9 am-6 pm April 9-10 in Halton Arena. Free.
Lectures and discussions
These events are free and open to the public. CLICK HERE for an interactive campus map to find building locations.
The Marvelous Milky Way – 7 pm April 8 in the EPIC building, Room G256; free – Learn about exciting new findings about the nature of our galaxy in this talk by renowned astrophysicist Heidi Jo Newberg, co-winner of the Gruber Prize in Cosmology and the 2015 Breakthrough Prize in Fundamental Physics. More details
Healthy Aging – 7 pm April 11 in the Bioinformatics Building, Room 105 – Expert panel presentation and discussion on the latest research in senior health issues. Features UNC Charlotte faculty Mike Turner, Jane Gaultney, Trudy Moore-Harrison, and Julian Montoro-Rodriguez.
"Merchants of Doubt" film viewing and discussion – 7 pm April 12 in the Student Union Theater – Viewing of the 2014 documentary about subterfuge in the public presentation of science, followed by a discussion on the topic with Susan Joy Hasso, director of climatecommunication.org, and UNC Charlotte faculty Ian Binns and Brian Magi. Hassol is a climate change communicator, analyst, and author known for her ability to translate science into English, making complex issues accessible to policymakers and the public.
Cancer Biology – 7 pm April 24 in the Bioinformatics Building, Room 105 – Prominent UNC Charlotte researchers, cancer biologist Pinku Mukherjee and bioinformatician and human microbiome authority Anthony Fodor, will present promising new discoveries in cancer immunology and the microbiome's role in cancer. They also will field questions.