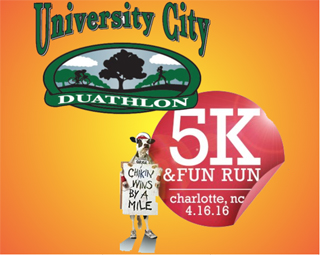 University Research Park provides the backdrop for two upcoming athletic events. One helps the students of our four Governors Village Schools. The other honors our military veterans.
Both offer athletic challenge while celebrating fitness for all ages.
Learn how you can take part in and support The Governors Village 5K on April 16 and the University City Duathlon on May 7.
Governors Village 5K and Fun Run
Slip on your running (or walking) shoes and gather your teams! The Governors Village 5K and Fun Run will be held at Nathaniel Alexander Elementary, on April 16, from 8 am to 1 pm. All money raised will go to support all four Governors Village schools and provide college scholarships.
Stay after the races for a block party with awesome music, free food, play time on inflatables and interactive sponsor areas.
Event details
The 5K has numerous age groups from 8 and under all the way to 60 and over. Overall male and female 5K winners will get free Chick-fil-A for a year! So will the participant who shows the Most Cow Spirit! All 5K participants will get a race shirt.
The 5K will start at 8 am (sign-in begins at 7). Registration fee is $25 in advance, $30 on race morning.
The 1-mile Fun Run will start at 9. Cost is free, but you must register. Fun Run T-shirts are available for $15, but supplies are limited. Order shirts by March 31.
CLICK HERE for more details and to register online.
Wanted: Corporate teams and more sponsors
Organizers are still signing up corporate teams to run and seeking more corporate/community student sponsors. These sponsorships provide scholarships for our students in the four Governors Village schools: Vance High, Martin Middle, Nathaniel Alexander Elementary and John Motley Morehead STEM Academy.
Many companies and groups have already pitched in, including TIAA, Aon Hewitt, Carolinas Healthcare System, Hendrick Lexus, University City Partners, Sam's Club, Tide Dry Cleaners, Elevation, Chick-fil-A, Fast Signs, True Light Signs, Smoothie King, Together We Feed, and Restore Global.
For information on sponsorships and company race participation, contact Veronica Washington at cfauniversityplace@gmail.com.
University City Duathlon, 5K and Kids Sprint
The Charlotte region's most popular Run-Bike-Run event takes place May 7 in the heart of University Research Park. The event also offers a traditional 5K Run and 100-yard sprint for kids.
The duathlon features a 5K run, followed by a 19K bike ride and concluding with another 3K run. The runs take place on a mix of roads and packed gravel greenways. The bike ride uses streets in and around the research park. The event is open to both individuals and teams and gives awards to top male and female finishers in 14 categories plus overall event winners and top teams.
The run/walk 5K is for people who don't wish to ride bicycles.
The Kids' Sprint will help little ones get into the spirit of the morning, too.  The fun run begins about 8:10 am and covers 100 yards. All kids can take part for free. Kids' T-shirts will be available for $5 each.
All events start and end at the David Taylor Corporate Center at 10101 David Taylor Drive. CLICK for directions.
Race morning activities and registration start at 6:30 am. The Duathlon and 5K begin at 8 a.m. The awards ceremony will take place at 10:30 a.m.
Event benefits Carolinas Freedom Foundation
The Duathlon raises several thousand dollars each year for an area nonprofit group. This year's event will benefit the Carolinas Freedom Foundation, dedicated to honoring the 85,000-plus veterans in the Charlotte area. Get more race details and register at universitycityduathlon.com.